Why Hurt Locker beat big-budget Avatar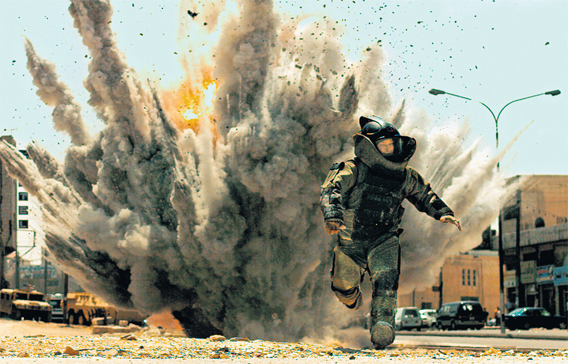 By the time The Hurt Locker won the best picture Oscar Sunday, it seemed almost a foregone conclusion since it previously earned honours from the Producers Guild, Bafta, Broadcast Film Critics, the National Society of Film Critics and critics groups in New York, Los Angeles and elsewhere.
But Hurt Locker was anything but a sure thing. In a historical context, its win is surprising. After all, it is the lowest-grossing best picture winner of all time. It was never on more than 535 screens, and it beat the highest-grossing movie in modern history, one that has been playing on thousands of screens for nearly three months. In the era of blockbusters, Locker cost a mere $11 million (Dh40.37m) to make compared with the more than $230m cost of Avatar.
To earn its gold, Hurt Locker had to break what producer Greg Shapiro called The Iraq War Curse, referring to all the films touching on that conflict but failed to find an audience. It had to weather attacks in the media and from some in the military who questioned the realism of how it portrayed the bomb-removal unit.
The film also drew censure for the illicit campaign methods of one of its producers, the first to be banned from attending the event. And it had to win with backing from Summit Entertainment, a relatively new and small distributor that had never before won an Oscar.
There also is the parallel question of whether Avatar and distributor Fox contributed to their own demise in the best-picture race. The sci-fi epic had been critically acclaimed, far more widely seen and was widely heralded for its breakthrough technology.
And it boasted the deep-pocket backing of a major Hollywood studio. Could it be explained as the ultimate example of the split personality in Hollywood, where movie choices are mostly driven by the need to make large amounts of money but where the people behind the camera still want to be seen as making art? And was it hurt by attacks from the political right on the movie's plot, which was seen as a dig on America's Iraq incursion?
Or was Avatar doomed because it was sci-fi, a genre that rarely has been rewarded by Oscar? There are precedents: in 1977, for example, when Star Wars was the breakthrough movie, it lost best picture to Woody Allen's low-budget comedy Annie Hall.
The path that Hurt Locker took was anything but standard. After Summit picked up US?distribution rights in September 2008, it put the movie on the shelf because its release schedule was crowded. It eventually opened Hurt Locker last summer as counter programming instead of in the fall, when most serious dramas get a showcase launch.
Summit turned the Oscar strategy over to veteran campaigner Cynthia Swartz. Swartz was criticised for waiting until early December to send out the DVDs, even though the whole strategy revolved around getting the movie seen by as many voters as possible.
She also had to get attention from Academy voters and guild members for a movie without any marquee names and a subject that put off many already weary of a war that never seemed to end. What Swartz did right was to center the campaign around Bigelow, a woman who directed with as much glory and guts as any man, and to feature writer/producer Mark Boal for his screenplay and real-life story as a journalist embedded with a bomb disposal unit in Iraq.
She had bound copies of the Hurt Locker script sent to every member of the Writers Guild of America, earning guild honors for the original screenplay and the same award at the Oscars.
Meanwhile, Fox seemed to downplay awards campaigning, letting Cameron take the lead. But Cameron wanted to talk about how frustrated he was that his actors, whose performances were captured by computer-generated technology, were not taken as seriously as live-action actors.
In the end, both movies tried to position themselves as important parts of screen history. That worked for Hurt Locker but not for Avatar, which will have to settle for being the biggest-grossing movie, even though it didn't gain the respect that comes with the best picture trophy. (Reuters)
Keep up with the latest business news from the region with the Emirates Business 24|7 daily newsletter. To subscribe to the newsletter, please click here.
Follow Emirates 24|7 on Google News.