35 women accusing Bill Cosby of rape tell their stories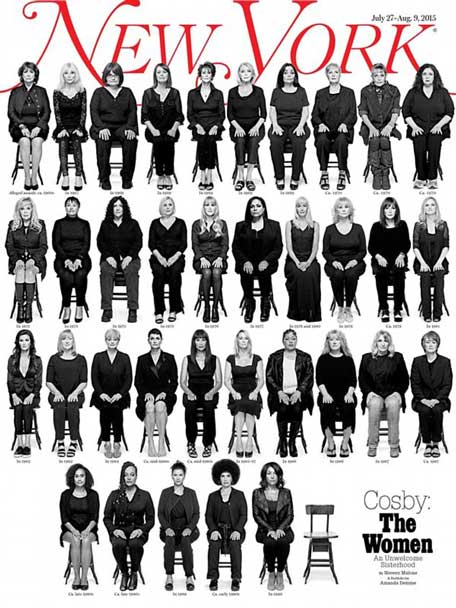 35 women accusing Bill Cosby of rape have come together in a powerful magazine shoot to recount their experiences at the hands of America's once favorite dad.
These women agreed to be pictured for the publication.
Nearly 60 years since Bill Cosby's first alleged sexual assault, these 35 individuals, ranging in age from their early 20s to 80, have bravely agreed to be pictured for an issue of New York magazine, set to be published on Monday, while revealing the details of their encounter with the disgraced comedian.
The waitresses, actresses, Playboy bunnies, journalists and writers described how they were allegedly drugged, raped or molested by the star.
Each one described their encounters with the disgraced TV star.
They stepped forward as a group just days after a deposition made by Cosby in 2005 was revealed in The New York Times.
In the sworn testimony a decade ago, he said he had paid women after sex to keep the affairs from his wife, suggested he was skilled at reading women's unspoken desires and called one of his accusers a liar.
Fame, money, drugs to lure women
US comedian said he offered pills and payments to women he had sexual encounters with, and tried to hide it from his wife, according to court documents cited in the New York Times Saturday.
The newspaper obtained a transcript from a deposition Cosby gave 10 years ago as part of a lawsuit from former Temple University employee Andrea Constand, who accused him of drugging and molesting her.
Cosby said he acted as a mentor to Constand, and wooed her by "inviting her to my house, talking to her about personal situations dealing with her life, growth, education," according to the deposition quoted in the Times.
The pair remained in contact for several years in the early 2000s, and one night at his house in Pennsylvania he said he gave her one and a half tablets of the over-the-counter antihistamine drug Benadryl to relieve stress.
They reportedly kissed and had sexual contact afterward, according to the newspaper.
But Constand's lawyer said she believed he gave her a much stronger drug.
Constand maintains she was not seeking money from Cosby, but the actor said his wife, whom he married in 1964, would have likely thought support he provided her was for her education.
"My wife would not know it was because Andrea and I had had sex and that Andrea was now very, very upset and that she decided that she would like to go to school," he is quoted as saying in the deposition.
Cosby also channeled $5,000 to Therese Serignese, who accuses Cosby of drugging and taking advantage of her, through her agent so his wife would not find out, according to the newspaper.
Cosby, now 78, maintains any sexual relations he had with Constand were consensual, and accuses her of lying.
"I think Andrea is a liar and I know she's a liar because I was there. I was there."
He said he had a knack for reading women's signals and body language and said Constand did not "walk out with an attitude of a huff," referring to one of their sexual encounters.

"I think I'm a pretty decent reader of people and their emotions in these romantic sexual things, whatever you want to call them," he said.
Constand's lawsuit was settled with Cosby in 2006 on undisclosed terms.
Sympathy for sex?
The 1,000-page deposition offers more details from court documents unsealed earlier this month, in which Cosby admitted to having obtained seven prescriptions for Quaaludes and giving them to other people.

But in the deposition, he avoided questions about who he gave drugs to and when, and whether he gave women drugs without their knowledge.
Elsewhere in the document, Cosby insisted he did not have non-consensual sex with anyone.
"I am a man, the only way you will hear about who I had sex with is from the person I had it with," he said, according to the Times.
In the deposition, Cosby describes sexual encounters with at least five women, and a "romantic" interest in two more, according to the Times.
He said he spoke with one woman, model Beth Ferrier, about her career and her father who had died of cancer.
The lawyer questions Cosby's motives: "Did you ask her those questions because you wanted to have sexual contact with her?"
In response, Cosby said 'yes,' according to the deposition.
Cosby has never been charged with a crime, though the embattled actor has been accused by dozens of women of attacks going back decades.
Los Angeles police said this month they are pursuing a sex assault probe into the comic.
Cosby, a pioneering African-American comedian who played a beloved family doctor on the hit 1980s sitcom "The Cosby Show," has lost public supporters in the wake of the sex scandal.
The cultural megastar has canceled several comedy engagements and a Cosby television special that was planned for late last year.
The entertainer was also forced to resign from the board of Temple University, his alma mater, last December.
Follow Emirates 24|7 on Google News.