5 things to do in Dubai this week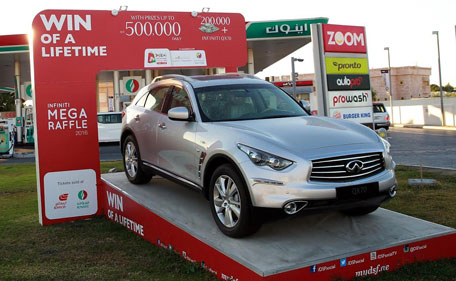 For many of us, late nights and leisure time during week days are an absolute no.
The first five days are meant for work - period, but we believe you can always squeeze in an hour or so to disengage yourself from work pressure and let your hair down.
So here are a few events that will help you sail through the hectic week.
The Laughter Factory
Prepare yourself for some ROFL (rolling on the floor laughing) moment. UK's stand-up Markus Birdman is set to take on the monthly Laughter Factory stage. He will be joined by Danny McLoughlin and Rich Wilson.
Tickets: Dh140.
Where: McGettigan's, JLT
When: Wednesday, January 13, 8pm, www.thelaughterfactory.com
Dubai Shopping Festival
The largest shopping event in the Middle East is back. A 32-day citywide celebration comprising internationally renowned events, global celebrities and special family-oriented activities. You can find discounts of up to 75 per cent on jewellery, perfume and clothes, as well as some great deals on electronics.
When: Jan. 1-Feb. 2
Cristiano Ronaldo museum at The Beach
Lionel Messi may have dethroned three-time winner Cristiano Ronaldo by winning this yera's Fifa Ballon d'Or award but Real Madrid star is undoubtedly one of the greatest football players we have known.
Now fans in Dubai can now visit a pop-up museum which celebrates the life and career of Cristiano. Fans will be able to see his trophies and personal memorabilia from his life in Madeira, Portugal, Manchester and Spain.
A life-size waxwork of Ronaldo is available for photo opportunities, as well as numerous pieces of merchandise.
Where: The Beach - Dubai Marina
When: Jan. 5 to Jan. 31
Jamie Woon in Dubai
Jamie Woon's mesmeric new album, 'Making Time', the successor to his much-hyped 2011 debut, 'Mirrorwriting', is drenched in soulful textures. With his latest album Woon has stepped into the territory occupied by Maxwell and Erykah Badu in the '90s. His forthcoming appearance at the One Big Vibes party in Dubai this weekend promises to be one of the first must-see gigs of 2016.
Where: Media City Amphitheatre, Dubai Media City
When: Friday, January 15, 5pm to 1am
Tickets: Dh150 to Dh250
Lil Wayne in Dubai
33-year-old American rapper Lil Wayne (Dwayne Carter Jr) will be performing in the UAE for the first time. Make sure to book your table.
Tickets: not confirmed
Where: VIP Room Dubai
When: Sunday, Jan. 17
Follow Emirates 24|7 on Google News.