84-year-old Rupert Murdoch announces engagement to Jerry Hall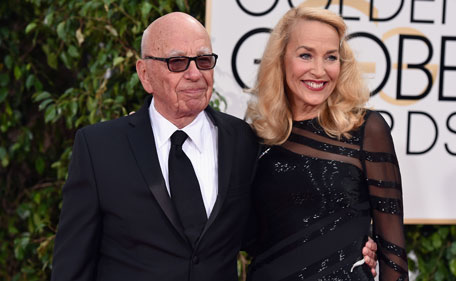 Media mogul Rupert Murdoch will marry actress and former supermodel Jerry Hall, the couple announced in British newspaper The Times on Tuesday, after a four-month romance.
The couple got engaged over the weekend in Los Angeles, where they attended the 73rd Golden Globes awards gala.
Murdoch, the 84-year-old executive chairman of News Corporation, which owns The Times, announced the impending nuptials in the Births, Marriages and Deaths section of the newspaper.
This file photo taken on October 31, 2015 shows Australian-born media magnate Rupert Murdoch (L) and former US model Jerry Hall watching the action during the final match of the 2015 Rugby World Cup between New Zealand and Australia at Twickenham stadium in southwest London. (AFP)
"Mr Rupert Murdoch, father of Prudence, Elisabeth, Lachlan, James, Grace and Chloe Murdoch, and Miss Jerry Hall, mother of Elizabeth, James, Georgia and Gabriel Jagger, are delighted to announce their engagement," it read.
The pair started dating late summer after being introduced by one of Murdoch's sisters and his niece, and first made their relationship public in October at the rugby World Cup final in London.
Between them they have 10 children from previous marriages, and went on holiday with several of them on a yacht in the Caribbean after Christmas.
A spokesman for the Murdoch family said: "They have loved these past months together, are thrilled to be getting married and excited about their future."
This will be Murdoch's fourth marriage and the second for 59-year-old Hall, an American, who tied the knot with Sir Mick Jagger in 1990 in a ceremony in Bali. When they divorced in 1999, Jagger claimed that they were not legally married.
Murdoch was married to Australian Patricia Booker, journalist Anna Torv and most recently Wendi Deng, who he split from in 2013.
Rumours surfaced at the time that Deng, now 47, had been having an affair with Murdoch's good friend and former British prime minister Tony Blair. Blair denied an affair had ever taken place.
With an estimated fortune of more than $11 billion, Australian-born Murdoch, now a US citizen, owns some of the world's most famous newspaper titles, including The Wall Street Journal, The New York Post and British tabloid The Sun.
Follow Emirates 24|7 on Google News.