Abhishek Bachchan, Rani, Sonam, Saif: Time to say goodbye to Bollywood?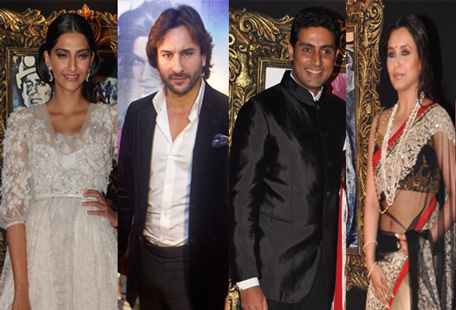 So, they've all had their shot at stardom, yet none quite owned their spot in the spotlight. They've tried, no doubt, but were never worthy of it.
Considering there are innumerable deserving candidates waiting for their shot at the big, bad world of Bollywood, we think it's about time that these 'failed' actors abandon their acting dreams and pursue something more in line of their true potential.
Although there are many actors who'd find their names in this list, we've had to restrict to just 10.
Here goes…
Abhishek Bachchan
Apart from flaunting his illustrious Bachchan bloodline, his drop-dead gorgeous actress-wife Aishwarya Rai, and his famous little daughter Aaradhya, Abhishek has no real reason to celebrate his star status.
His acting career fizzled out, almost as soon as it took off a decade ago.
Barring Mani Ratnam's 'Yuva' and 'Guru', Abhishek has not shown any credibility to own his position as an actor.
We think, he'd excel if he took on film production instead. After all, he has already been recognized for his contribution as a film producer in 'Paa' with the prestigious national award.
So, instead of chasing broken dreams, it'd be wiser if he took on production projects.
Sonam Kapoor
Yes, she's stunning and her fashion insight impeccable. But, when it comes to her experiments in front of the camera, Sonam falls short.
Even her famed-actor-father Anil Kapoor has been unsuccessful in restructuring her dipping career.
With such an incredible fashion sense, it'd be more appropriate if she took on a fashion stylist profile in the movies.
With so many red-carpet events and parties to attend, and so many ridiculously dressed celebs around, we are sure there won't be any dearth of business for Sonam.
Bipasha Basu
She's got the looks, and a body to match. But, unfortunately she never got lucky with her movie projects.
There have been many attempts, but none that we can recall as outstanding.
So, before age and bad-luck finally catches up with her, she should shift focus and groom for the role of a fitness expert.
Having launched a workout DVD already, she's already on the right track.
Now, if she could only give up the acting, and build a strong celeb clientele, she might turn successful.
Saif Ali Khan
It has been seven years since Saif Ali Khan created any real impact on the big screen. Yes, his incredible take on the inscrutable Langada Thyagi in 'Omkara' was way back in 2006.
He might've hogged the tabloid columns due to his glorious affair, and subsequent marriage, to actress Kareena Kapoor but that aside, there has been real reason for celebration for this Khan.
Considering he is blue-blooded, and is titled the 'nawab of Pataudi' after his father's death, we think he'd make for an impressionable politician.
He's got a wardrobe to match, and an accent that could help him stand out among the other political heads.
Rani Mukherjee
There's no doubting her talent, but with so many new, younger and more daring actresses around, Rani has been sidelined.
She attempted to make a comeback rather unceremoniously with a raunchy 'Aiyaa', but her bloating belly and aged dance moves didn't quite work in her favour.
So, benefiting from her alleged link-up with the rightful heir Aditya Chopra, she could take on a new role as the head honcho of Yash Raj film productions.
Preity Zinta
While she did catch the fancy of millions with her dimpled charm, Preity has been futile in creating a stir in the last few years. Her last movie act was back in 2008!
Since then, she side-tracked to the cricketing pitch for the Indian Premier League (IPL) and co-bought a team with ex-beau Ness Wadia. But, it didn't work in her favour.
She was set to make a comeback last year, as an actor and producer, but 'Ishq in Paris' got delayed due to an ailing director.
With nothing much happening in her acting career, we think she should gracefully bow down and start an interior decoration business, much like her best pal Suzzanne Roshan.
Judging by her excellent taste, she'd do soaring business.
Nagris Fakhri
Although her movie act fizzled, mostly due to her inability to stop pouting, she did win many magazine cover shoots.
With stunning looks and a slender body to make anyone droll, she'd be better off selling magazine covers, or beauty products. It's evident that her success lies in the modelling world.
Not all actors can be models, and not all models can be actors. So, she should just pout and pose, and make a picture perfect.
Uday Chopra
Despite hailing from the legendary Yash Raj family, Uday has always struck out as being extremely unlucky.
His movies failed, and so did his affair with little-known actress and star sibling Tanisha, leading him into major depression.
It's humbling that he knows his limitations and refrained from donning the actor's hat, barring for his soon-to-be released home production 'Dhoom 3'.
He even launched a comic book label 'Yomics', but looking at how that went fairly unnoticed, we think he should probably try his hand at the hotel business.
With so many friends in the industry, his hotel would do great business and probably find him a slot in the big league.
Tusshar Kapoor
Neither his famous actor-father Jeetendra nor his super-successful producer-sister Ekta Kapoor could mould his acting career.
Even though he has got so many chances, as side-kicks, in plum movie projects, he has unable to do justice to any. Barring a comic portrayal of a dumb loser in 'Golmaal' series, Tusshar has always been ignored.
Looking at how big his sister is in the television industry, he'd, probably, do better in TV production. At least, he has her to fall back on.
Sanjay Dutt
There was a time when he was the most stunning hero around, but with age and an ever-growing pot-belly, Sanjay has been forced to slow down.
His movie choices, of late, have been nothing to write home about.
And judging by how involved he is in bringing up his toddler-twins, he should probably give movies a miss, and focus on starting a business instead. A fitness club, adventure sports club or even a night club could benefit from Sanjay's stud image and inglorious past.
Follow Emirates 24|7 on Google News.