Again! Kim Kardashian attempts to break internet with nudity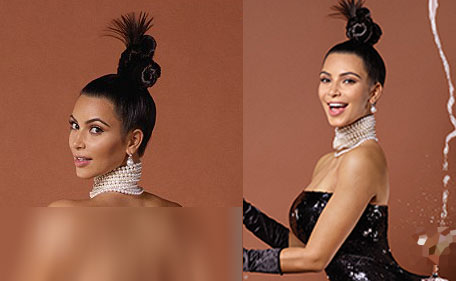 We do not expect anything more from reality star Kim Kardashian. In her recent photoshoots Kim has never left anything for the imagination and frankly we have had enough - but Kim doesn't share our feeling.
Her Paper Manazine nudity was not the last of Kim's body baring act.
Now for Love magazine's new shoot, the reality TV star has again gone naked. She is seen bent over with her famous derriere facing the camera.
Well, that's calling showing the back!
In the raunchy picture Kim is wearing nothing but a jacket, stockings and heels and is smoking.
The mother-of-one famously rarely drinks and is a non-smoker but the cigarette fits the 'edgy' theme of the shoot.
The image has not been posted by Kim herself but her fans. Kim loves the buzz around her derriere each time she poses naked.
In the inside pages Kim shot for Prada, styled by Love editor-in-chief Katie Grand.
Here again Kim went full frontal nude (she loves doing that).
We have come to expect this kind of posing from attention-seeking Kim.
Indeed Kim's shoot seems in another league.
The image is from Love magazine's upcoming Spring/Summer issue, which will hit newsstands on February 9.
Follow Emirates 24|7 on Google News.