Aishwarya, Abhishek buy Mini Cooper not for Aaradhya but Amitabh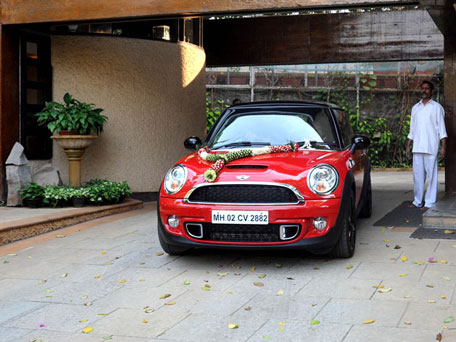 Bollywood actress Aishwarya Rai Bachchan's daughter Aaradhya Bachchan was due to celebrate her first birthday on November 16; a swanky new red Mini Cooper was spotted parked in their residence.
With no facts check done the media (including us) went berserk reporting that father Abhishek Bachchan gifted this Cooper to his little daughter.

What skipped everyone is that Aaradhya's grandfather Amitabh Bachchan also celebrated his birthday just over a month ago on October 11.
So that Mini Cooper was not for little Aaradhya but Aishwarya and Abhishek bought it for father Amitabh Bachchan.

Amitabh Bachchan put to rest all the rumours about Abhishek Bachchan gifting a car to his daughter Aaradhya on her first birthday.

Mr Bachchan wrote on his Facebook account, "FB 89 - Second misconception: Abhishek presented a car to Aaradhya on her first birthday ... wrong. NO car was presented, instead a car was purchased by them to gift me on my birthday ... a MiniCooper, which I love, and which has a number plate 2882."
Chauffeur grandfather Amitabh Bachchan, grandmother Jaya Bachchan rides in the front, Aaradhya in the backseat with mother Aishwarya. (AFP)
Last year, when Aaradhya turned one, she was spotted in the backseat with mother Aishwarya, being taken for a spin in the bright red Mini Cooper S driven by grandfather and grandmother Jaya Bachchan took the front passenger seat.

Amitabh Bachchan in his Facebook post explains the significance of the number plate which reads MH 02 CV 2882.
He wrote, "It's 2882, because that is a special date too in my life ... my second birthday! After the Coolie accident it was on the 2nd of Aug 1982 that I had died and revived. 2882 is the 2nd of the 8th month of August in the year '82 ... so 2882 !!

Mr Bachchan was in a mood to clearing all misconceptions. He also wrote, "There are some misconceptions and untrue facts being mentioned on various social networks about me ..1. they state that another poem was written by me on the victim of gang rape in Delhi ... wrong. I wrote just one poem and every one knows what i am talking on .."

Looks like Mr Bachchan's putting his social network skills to good use and reaching out to his fans.
Follow Emirates 24|7 on Google News.