Aishwarya, Abhishek slam rumours of buying 'new' Dubai home for Aaradhya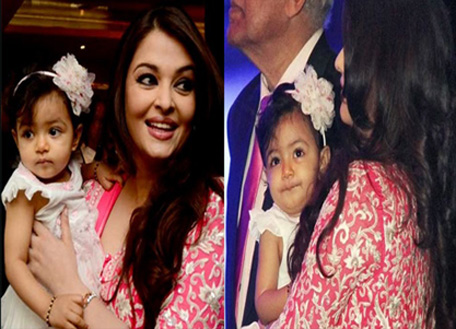 Aishwarya Rai Bachchan and daughter Aaradhya are not in Dubai, as widely speculated, with the celebrity's publicist confirming the same to Emirates 24|7.
Bollywood's Abhishek Bachchan was also forced to clarify on Twitter that he was in fact misquoted when quizzed on the side lines of Ritu Beri's annual children's charity show on Saturday on the whereabouts of his famous wife and daughter.
To see what Ash's Dubai villa could look like: Click here
Aishwarya's publicist said: "Both Aishwarya and Aaradhya are in Mumbai and have not travelled to Dubai."
She further clarified: "No house has been presented or gifted to Aradhaya."
The story of a new Dh36 million investment in Dubai's real estate market broke over the weekend in the Indian media, with many speculating the starry couple were gifting this new property to their one-year-old daughter.
Abhishek also took to Twitter amidst the media frenzy to tweet: "My dearest media, last night at the event (Ritu Beri fashion show) I said Aishwarya and Aaradhya were in Mumbai not Dubai. Thanks."
He was quoted in the press as saying his wife and child were in Dubai.
Aishwarya's publicist also stressed that this was not the first time such irregular stories about Aradhaya and her famous parents have appeared in the press.
In November, Indian media frenzy reported the Bachchan family had gifted the young mite a new Mini Cooper for her first birthday.
However, in January of this year, grandfather and superstar Amitabh Bachchan cleared that misconception up on his Facebook account.
He wrote: "Misconception: Abhishek presented a car to Aaradhya on her first birthday. Wrong. No car was presented; instead a car was purchased by them to gift me on my birthday – a Mini Cooper, which I love, and which has a number plate 2882."
Bachchan senior turned 70 in October last year, amidst huge celebrations that saw the who's who of Bollywood attending.
MUST READ:
Aishwarya, Aaradhya can move into Dubai's Sanctuary Falls villa by September
Aishwarya Rai and Aaradhya in Dubai to snap up Dh36m deal?

Former lovebirds, Salman and Aishwarya Rai's Dubai stay
Follow Emirates 24|7 on Google News.