Aishwarya Rai's comeback: Why dress size will not matter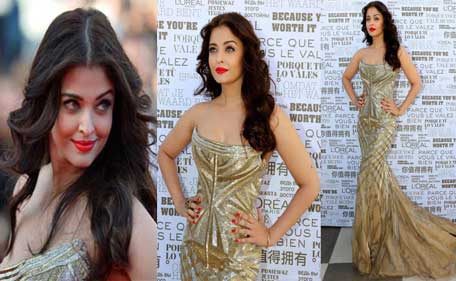 When we saw her blowing a kiss to the shutter bugs on the Red Carpet at Cannes in a glistening golden Roberto Cavalli strapless gown, we knew Aishwarya Rai Bachchan is on her way to set the silver screen on fire.
(AP)
We noticed her dress size has dropped significantly as she flashed her newly-acquired trim figure.
Just in time for her comeback movie, 'Jazbaa'. Rai was last seen in Sanjay Leela Bhansali's 'Guzaarish' in 2010.
In the past four years when Ash was away, we have witnessed a deluge of talented female leads in the entertainment industry.
Indian actress Aishwarya Rai Bachchan poses as she arrives for the screening of the film "Deux Jours, Une Nuit (Two Days, One Night) at the 67th edition of the Cannes Film Festival in Cannes, southern France, on May 20, 2014. (AFP)
The former beauty queen will step into the space of young, talented Alia Bhatt, Parineeti Chopra, Shraddha Kapoor. Not to forget the box office bombs - Deepika Padukone, Priyanka Chopra and Katrina Kaif.
Even if Aishwarya wades through the younger lot, she will face fierce competition from the likes of multi-talented Vidya Balan.
(REUTERS)
The 'Dirty Picture' actress has changed the rule book in Bollywood and stirred focus from a completely male-dominated industry to heavyweight female lead actors.
Vidya also has the 'Queen' Kangana Ranuat joining her league, stimulating writers to script strong female characters.
Aishwarya will have to rise above her beautiful face - let's put it bluntly - since acting isn't her core strength.
(AFP)
She has delivered successful films in the past and audiences were wooed by her stunning looks.
But she isn't the only pretty face in the industry.
Seniors like Tabu, Madhuri Dixit and Sridevi have ruled the box office and audience's heart. In the recent times, they gave stellar performances in their comeback films.
(AFP)
They evoked wistful nostalgia among audience and emoted with grace while breathing life into characters.
It won't be wrong if movie-goers expect the same from Aishwarya Rai Bachchan.
The queue of 'comeback heroines' is getting longer. Kajol, Preity Zinta, Raveena Tandon, Karisma Kapoor - they all have projects lined up and they are all good actors too.
All these actors have once been the industry's top-billed star; Ash should keep an eye on their comeback.
(AFP)
Since 2010, Indian cinema has seen a sea of change. If there is space for Sonakshi Sinha's 'Dabangg', even 'Lunchbox' starring little known Nimrat Kaur is applauded.
Character artists are giving top earning actresses a run for their money.
Female leads cannot afford to just be an arm candy anymore. One can argue here and put forth Katrina Kaif and Sonakshi's success story and their list of unmentionable roles.
But when it comes down to hard-core acting, it is better to keep Katrina's name out of the list.
Bollywood actress Aishwarya Rai poses on the red carpet as she arrives for the screening of the film "Deux jours, une nuit" (Two Days, One Night) in competition at the 67th Cannes Film Festival in Cannes May 20, 2014. (REUTERS)
A pretty face can elevate a performer only to a certain level and then the industry tends to brand them as a prop in front of towering male stars.
While making a comeback can Aishwarya even afford to be a prop? Is she even willing to play arm candy?
Indian film industry has widened its horizon. If there is space for Huma Qureshi, Sunny Leone can also squeeze herself in.
In that case, Bollywood's eco-system will accommodate the light eyed, charming former Miss World once more.
'Jazbaa' will start rolling soon and be shown at Cannes Film Festival in 2015. Aishwarya will play the role of a lawyer and co-star Irrfan Khan, will be a suspended cop.
Sanjay Gupta says she will be the 'hero' of the film. Of course, why do you think she accepted Gupta's offer?
Ash will do everything possible to make this count.
And the media will be watching her like a hawk. Clearly, they are not done after the post-baby fat jibes that went on for three years.
Follow Emirates 24|7 on Google News.