Aishwarya Rai's first stage act after Aaradhya with Bigg Boss winner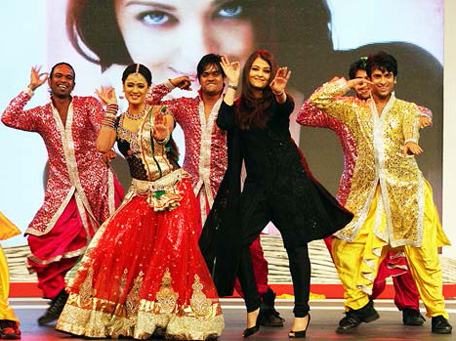 After motherhood Bollywood actress Aishwarya Rai performed on stage for the first time and matched steps with the lead dancer Shweta Tiwari.

All that for a good cause. The Coca Cola - NDTV 'Support My School' campaign raised worth Rs 13.6 crore (INR) towards the revitalisation of 272 schools across India via a telethon led by Indian cricketer Sachin Tendulkar.

But the highlight of the show was Aishwarya Rai Bachchan.
Bollywood actress Aishwarya Rai Bachchan as campaign ambassador of NDTV's Support my School Campaign perform with Shweta Tiwari. (Screen grab)

Shweta Tiwari, winner of the fourth season of the reality television show Bigg Boss, danced to Aishwarya's danced to a medley of Ash's greatest hits.

As Shweta grooved to Ash's popular song 'Kajra Re', the lady herself joined Shweta, matching the steps perfectly even with no practice.
This impromptu performance by Aishwarya delighted the audience.
(SUPPLIED)
Campaign Ambassador, Aishwarya said, "Joining the Support My School Team on this platform today truly gives me great pleasure. I believe Education is immensely Invaluable, Essential and the most Empowering gift we can give the children of our Country.

"Every child deserves the best of opportunities to grow and prosper... Every girl needs to recognise that she herself is a beacon of hope and has the potential to influence her future. And I understand and recognise, for this to be possible, these opportunities have to be made available to our children!!!

"In a vast country like India, there are many and varied challenges one faces while working with diverse rural and semi-urban communities. Individually, we may not comprehend these challenges, but collectively we are much stronger! And the overwhelming response to this campaign this time has proven that! With 272 schools and counting, the second season of Coca-Cola NDTV Support My School is spreading the joy of learning amongst the children of our country... And this has only been possible All Thanks to Every support and encouragement from donors, viewers, campaign partners and all on board the collective effort today!!! God Bless everyone for their contribution and Thank you!!! "

The telethon, which marked culmination of a six-month long fundraising drive, received pledges from several organisations and individuals alike, with significant contributions towards raising the amount.
(SUPPLIED)
For the first time ever, the 12-hour telethon which began 9 am and finished at 9 pm was also being streamed live on Sachin Tendulkar's Facebook page and also on video sharing website YouTube.

The second edition of the 'Support My School' telethon was held at Yash Raj Studios in Mumbai.

Several celebrities including Ayushmann Khurrana and Cyrus Broacha also offered support and joined the telethon.

Ajay Devgn and Kajol, who contributed in the first year also, joined in to help support the cause.

"Telethon 2013 has once again been an overwhelming experience with higher levels of enthusiasm and support for the 'Support My School' campaign than ever before. The campaign is very close to my heart and I am delighted at the response we have received this time from individuals and corporations alike," Sachin Tendulkar said.

Aishwarya expressed joy for being able to support the campaign.

"As a mother, I understand the urge to provide your child with the best opportunities available to help them grow and prosper. Every child deserves these opportunities, every girl needs to know that she herself is a beacon of hope and has the power to influence her future," she said.
MUST READ:
Movie Review: Vikram gives 'David' a menacing twist


Aishwarya Rai has no plans to celebrate hubby Abhi's birthday?
Follow Emirates 24|7 on Google News.