Akshay throws the gauntlet at Ranbir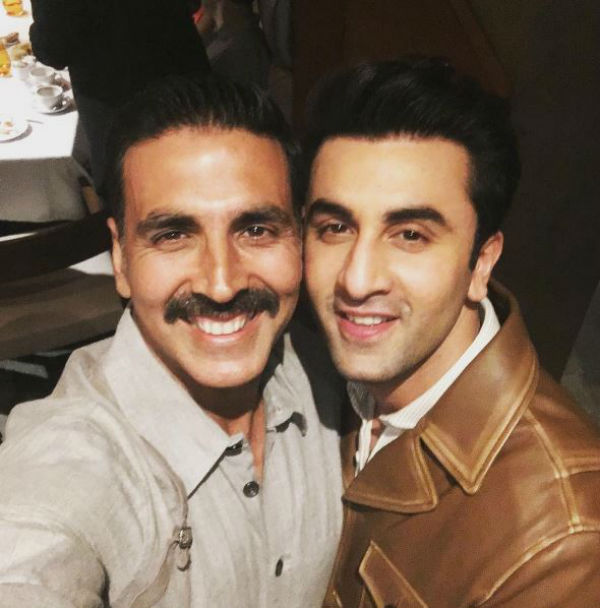 Akshay Kumar who had opted out of the Subash Kapoor directed and T Series produced big budget film Mogul – the biopic on late music baron Gulshan Kumar seems to be angry. The actor left on unpleasant terms with the producers. Prod him on who is a right choice to play Gulshan's role now and Akshay has an interesting answer. "I do not think anyone besides me can play that role," says Akshay Kumar setting the dice on a roll. Interestingly, it has been reported that Ranbir Kapoor has been approached to play the role in Mogul. So was Akshay hinting at something with reference to the Sanju actor?
Meanwhile Akshay, who is one of the fittest in Bollywood and is shepherding the hockey team in Gold feels that sports should be made compulsory in India. "Everyone needs to play. Everyone in every home should play a sport, be it children, men, old people or women. One sport is important. Some countries make it compulsory and you can see the result in their performances across the world. For example in Croatia, sport is important for everyone. If sports is played across every home in India, our health report will get better," says the actor.
Akshay who was present to launch Gold on the Imax screens is now looking beyond films at the moment. Quiz him on whether he will join the digital bandwagon and will be seen in a web series, he chuckles, "At the moment, I do not know. But if I get a good subject, maybe I will, But I am very happy to see myself on a much bigger screen like Imax."
Akshay however is not perturbed that the digital medium will take over Bollywood. "I am not worried about Netflix or Amazon. I am also worried about what will come next. You need to keep updated to tackle everything," says the actor.
Follow Emirates 24|7 on Google News.