Ali Zafar clarifies 'Total Siyappa' not running down Shahid Afridi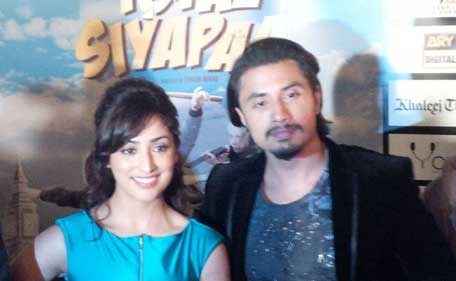 Call it ironic or a stroke of genius, but for the makers of 'Total Siyapaa', 'Boom Boom' Shahid Afridi's stellar performance during the ongoing Asia Cup could not have come at a better time.

While Afridi's batting prowess and his super sixes has slammed victories home for the Pakistani cricket squad – notably against India and Bangladesh – the film's stars Ali Zafar, Yami Gautam and director E Niwas have been fielding their own controversy with a now infamous dialogue from 'Total Siyapaa'.
Two weeks after the UAE saw the release of Pakistani film, 'Main Hoon Shahid Afridi', a scene in the upcoming Bollywood counterpart has angered the fans of the 'Boom Boom' man, which sees Ali defend Pakistan while attempting to impress his ladylove's Indian family; but when they throw Afridi's name into the mix, even Ali's character takes on exasperating to say: "Even we [in Pakistan] are troubled with Shahid Afridi."
While the cricketer in question has been 'troubled' by this film's dialogue, according to media reports, Ali clarifies his stance on the famous sportsman, saying: "I am a huge fan, especially after his splendid innings against India in the Asia Cup. He is a much loved sportsman."
The actor laughed and added: "When a team performs well during an Indo-Pak cricket match, they immediately become heroes in the eyes of their fans. It's just a take on the culture, of who we are as cricket loving nations.
"While we were shooting 'Total Siyappa', Shahid Afridi was going through a bad patch; now he is at his finest. So now we are not troubled anymore."

At this, actress Yami piped in to say: "No, now we Indians are troubled by him."

Ali also said that he would love to invite Shahid Afridi for his new film's two premieres in Pakistan, namely Karachi and Lahore over Thursday and Friday; albeit, the cricketer will have his hands full what with the Asia Cup finals on March 8.
Meanwhile, the promotional blitzkrieg in the lead up to 'Total Siyappa's' release has also exhausted Ali, who landed in the hospital less than a week ago out of exhaustion.

Clarifying that he was better, the actor/musician/singer/painter [he wears many hats], called a film's marketing today turning even "actors into salesman".
He explained: "It is a very exhausting affair. As an actor, you push yourself to put your creative best in front of the cameras while shooting for a film. And in an ideal world, your job should be over then.
"But in today's world, the competition is such that it is now standard norm to give that film a push through such promotional events, which can come at the expense of the stars."

In their case, does the fact that two other major Bollywood films releasing on the same day, namely 'Queen' and 'Gulaab Gang' [there is now a stay on the film's release], make it even more difficult to pull in the audience?
Said Ali: "Look, we are all from one industry and we want everyone to do well, so all we can do is wait and see. But we are definitely not under confident about our film or we wouldn't have released it on this day."
Ali, who is in the midst of shooting for his next 'Kill Dil', admitted that he is also working on a film in Pakistan, saying: "I have a project that I am working on. How can I not support my country's efforts when it was this very country that made me famous through my music?
"I think it is a fabulous time for the Pakistan film industry, especially with movies such as 'Waar', which made 220 million globally. I would love to do something in Pakistan for my fans."

'Total Siyappa', which releases across UAE cinemas today, is a comedy about a Pakistani musician Aman falling in love with an Indian girl, Asha. The film is shot through a single night when Aman is taken home to meet the family.
Follow Emirates 24|7 on Google News.