Ali Zafar, Pakistani stars' moving tribute to Peshawar victims [video]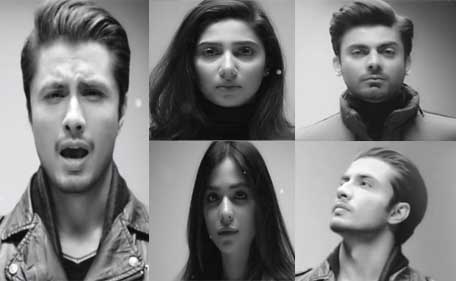 Pakistani actor-singer Ali Zafar has released his song titled 'Urainge' (Will Fly), which is a tribute to the victims of the Peshawar massacre.
Around 150 were killed in an attack by a terrorist group on an army-run school in the Pakistani city of Peshawar on December 16, 2014.
The video unites Pakistani musicians, actors and sports stars in paying their tribute.
Scroll down for video
'Urainge' is a beautiful song with heart-warming lyrics. The song has been crooned, composed and written by Ali Zafar.
The singer has brought together Fawad Khan, Mahira Khan, Humaima Mallick and other musicians, actors and sportspersons for the video.
In a statement, Ali said, "What we went through on the the day of 16/12 cannot be described in words. If not for ourselves, let us rise together for those children who gave their lives for our awakening. Let's stand united for them and for our own children. Let's look into their eyes and decide what we intend to leave behind for them."
The 34-year-old versatile actor and singer took to Twitter and wrote, "Thank you all for your love and sentiments. It's not my song. It's yours. Own it. Sing it. Live it. #Urainge."
The 'Kill/Dil' actor has also collaborated with leading Pakistani educational non- profit organisation, The Citizens Foundation (TCF) and 141schools.org.
All proceeds from the downloads of the song will go to into building schools for the children of Pakistan and ensuring a bright future.
Watch the song here and share your thoughts.
Also see: Movie Listings in UAE
Follow Emirates 24|7 on Google News.