Amal Clooney praises 'great love' George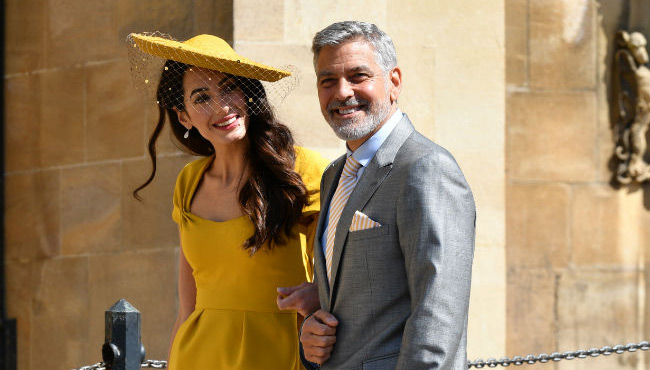 Amal Clooney spoke publicly about her husband George Clooney for the first time when he was honoured with the American Film Institute (AFI)'s Life Achievement Award.
The 40-year-old human rights lawyer moved her spouse to tears when she spoke publicly about him for the first time at the Dolby Theatre in Los Angeles on Thursday when the 'Money Monster' star - the father of her 12-month-old twins Ella and Alexander - was honoured with the American Film Institute (AFI)'s Life Achievement Award.
As well as speaking of her own "pride" in the 57-year-old star, she also spoke touchingly of her excitement at their children growing up to realise he's been in so many wonderful movies.
She said: "I met George when I was 35 and starting to become quite resigned to the idea that I was going to be a spinster. Then we met and started hiding out in my London flat and very soon it felt like, no matter what happened, I would never want to be with anyone else.
"I couldn't sleep when we were apart and I'm told that I would display a particular grin and head-tilt when reading his text messages or the letters he would hide in my bag.
"Five years later, none of that has changed. He is the person who has my complete admiration and also the person whose smile makes me melt every time. My love, what I have found with you is the great love I always hoped existed. And seeing you with our children, Ella and Alexander, is the greatest joy in my life.
"You fill our home with laughter and happiness and that's even before the children have worked out that 'da-da' is Batman, a talking fox, and friends with Mary Poppins.
"I'm so proud of you my love. Congratulations on this great honor that you're receiving tonight. I'm proud of you, but I also know that when our children find out not only what you have done, but who you are, they will be so proud of you too."
Amal also praised her husband for being a "gentleman" with great "manners", as well as having "incredible" talent.
She said: "He is a gentleman in every sense of the word and in a way that seems so rare these days and perhaps even outdated.
"Everyone who knows him, even those who oppose him politically or who have quarreled with him professionally, will tell you, he has not forgotten his Kentucky manners. On every sense I visit, I'm told by crew that George sticks up for the most vulnerable.
"Although George modestly attributes much of the success we are celebrating here to luck, I think it's incredible talent and character that got him here.
"And these attributes also make him an amazing husband and father."
Despite being at ease in the courtroom, Amal admitted she was nervous about speaking up in praise of her husband.
She began her speech by saying: "It's somehow easier for me to address a court on behalf a detainee, than to speak publicly as I am doing for the first time tonight about my husband.
"I do so out of immense pride of all he has achieved."
Follow Emirates 24|7 on Google News.