Amitabh Bachchan plays cupid; Harman admits dating Bipasha Basu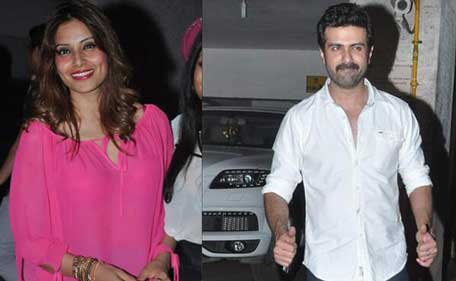 After her much-publicised breakup with John Abraham, Bollywood actress Bipasha Basu has found new love.
John Abraham's New Year wedding to girlfriend Priya Runchal, triggered news of Bipasha Basu too making-up her mind to tie the knot.
Bollywood actor Bipasha Basu and John Abraham spilt in 2010 and yet their names are often mentioned as a 'package'.

That's the aftermath of a decade-long relationship.
But the actress has found love and is going steady with Harman Baweja.

Bipasha and Harman have been going out on vacations and were seen quite smitten with each other.

The two actors have been a little hesitant to talk about their relationship in public and are waiting for Harman to create a name for himself in Bollywood with his next release, 'Dhishkiyaon'.

However, Harman has finally come out and admits to being in love with the gorgeous Bipasha Basu.
In an interview to Indian newspaper Times Of India, Harman said it was at Bollywood veteran Amitabh Bachchan's 70th birthday bash that the two took notice of each other and continued their interaction.
Talking to the reporter he says, "We knew of each other, but had never ever interacted until we met for the first time at Mr Bachchan's 70th birthday bash.
"It's natural to find her attractive. There are a lot of attractive people in the industry, but no one as attractive as her.
"We just hit it off and ended up talking a little more than we should be and we are still talking. Our starting to see each other was very organic."
Follow Emirates 24|7 on Google News.