Amitabh Bachchan returns with 'Bhoothnath'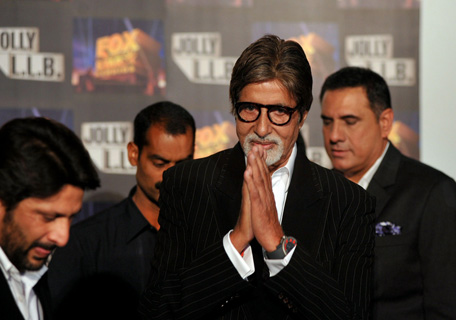 Amitabh Bachchan is working in his second sequel. He had done two editions of Sarkar for Ram Gopal Varma and now he has Nitesh Tiwari direct the second edition of Bhoothnath for BR Films.
Baghbaan had granted Bachchan a new lease of life, and he is indeed thankful to the makers BR Films, founded by BR Chopra that they not only gave him a chance yet again, but also recounted his days of yore.
"BR Films is massive institution. My association with BR films started before Zanjeer. I had a opportunity to come give a screen test, because I was very keen to work with BR Chopra. I was rejected in the preliminary tests, but when I was in Mumbai I was always trying to meet him and tell him that I wanted work in his film. It was a great honour to work with him," says Bachchan.
Bachchan says that there is a lot of difference between the first part and the sequel. "I think the stories are pretty different. The first part of the film had a much different script than the second one, but Bhoothnath Returns has been equally well crafted and I hope that we can meet after the film for the success celebrations," he hopes, fingers crossed.
But one thing that has not changed, has been his tweed jacket and the rest of the costume from edition one! "I am a ghost. Where am I going to change my clothes?" he guffaws, his sense of humour pretty much intact.
Talking about ghosts, we quiz Bachchan on his early nightmares and stories about ghosts and superhumans.
"Well, we did see Superman fly and then tied a blue coloured cape and jump from the rooftop when we had someone to catch us, when we didn't succeed. That apart, there have been no real ghost stories, but yes, one used to be very scared to walk around the house at night and switch on the light when it was pitch dark," says the actor.
Ask Bachchan about working with his friend Rishi Kapoor's son Ranbir and his face lights up. "I can also see that your face is lighting up when you are asking me about him. He is a good actor, but unfortunately we are not in the same frame in the film. But then, I do hope that I get to work with him. He is a popular actor and I do hope that I can possibly get a passing shot in any film that he is doing," smiles Amitabh.
The Bhoothnath Returns trailer indicates that Bachchan could play a ghost standing for elections. Any plans in real life to return to politics. "Of course not," pat comes the reply.
Bachchan surely seems to have understood where he belongs for good.
Follow Emirates 24|7 on Google News.