Amitabh Bachchan vs Filmfare Awards: Angry or just plain sick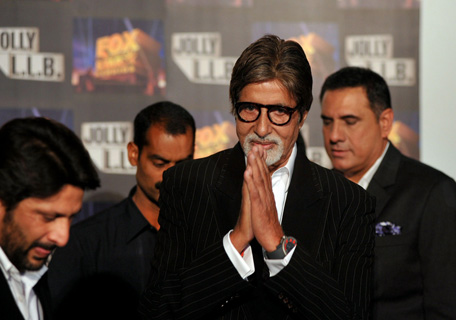 Bollywood actor Amitabh Bachchan is facing tough times these days with his neck injury which happened around 25 years ago on the sets of 'Don'.
His stiff neck bridled him and the star couldn't attend the recently concluded Filmfare Awards.
To clear any confusion Amitabh Bcahchan wrote in his blog about his health. At the same time he stirred a hornet's nest when he doubted the credibility of these awards.
Here's a low down on Amitabh Bachchan's thought:
"The neck has cricked … the pain is unbearable and the movement restricted to just slow glances here and there .. put up a brave face to meet the well-wishers, and then went back to wearing the brace to keep it from further trouble .. regretted invitation to FilmFare Awards due bed rest and acknowledged their disappointment, but also understood the reason for my absence...

They had wanted me to host the show this year along with ShahRukh .. I had liked the idea, met their team to discuss the creatives, but found it unsuitable for myself ..

They had conceptualised me going down history of Indian Cinema as tribute to 100 years of its existence, talking about the important periods and decades of the Industry from 1903, when Raja Harishchandra was the first film made by Dada Sahib Phalke, ending with Yash Chopra and then presenting the posthumous Life Time Achievement Award to his wife, Pamela Chopra. There is a claim by Bengal that the first film was made in Calcutta, and there is proof of that too, but of that another day. I had mentioned all this in my speech at the opening of the Kolkata International Film Festival, maybe we can refer to that some day ..

So … going down the history of cinema, I would have come to a period when I would have had to mention my own presence of the time. This I found embarrassing for, I would have had to talk about myself ; an act I would not be able to endorse .. so I told them my predicament and opted out. They kept up their persuasion saying they would be able to draft a suitable text for it, but I did not feel comfortable. They then asked me to give the posthumous award for Yash ji to his wife, Pamela. I had been travelling and then subsequently shooting for KBC and could not take it further. Then of course this morning I woke up with the most painful neck and informed them that I would not be able to come ..

I think they have understood, or I believe they have ..

But yes indeed, Awards and me have not been a compatible proposition; particularly with FilmFare. After an initial period of acknowledging my work, the entire press went against me , because they were informed by 'sources' that I that had brought on the idea of the Emergency and a ban on the press .. !! Nothing could have been more ridiculous. But they did not relent and banned me ; no interviews, no mention or pictures, or news of mine were ever printed in any form of the media during that time. So no Deewar, or Sharabi, or Muquaddar ka Sikander, Lawaaris, Natwarlal, Bemisal, and so many many others went blank, because the media had banned me. They banning me was reasonable perhaps from their point of view. Not for me. I took on the challenge to ban them also from my life and have so far not disturbed that stand with certain modifications of course. During that 10-15 year period, they relentlessly negated my presence, deliberately closed information of me by their agencies, and kept me as persona non grata ..! I had my biggest hits and the most interesting films of that time ..

I fell during 'Coolie' and there seemed to be a genuine concern from the media over my condition. Nari Hira, the owner of Stardust told me later they had wanted me to fail, but never wanted me to die. Things warmed up a bit after that and today they have all been acknowledged and accepted.

However the period when we were not communicating with each other, was the time when all the successful films of mine were released, and did extremely well. So there was no recognition given nor was there any effort made to ease matters.

Hence if there was any desire to honour me with an award was soon run down and negated.

I say this to explain perhaps the questions that are being raised today as the FilmFare awards get underway. It would be safe to express here then, that often merit was not considered a criteria for a win. But really the greatest merit an actor can derive is the patronage of the people that go to see our films. Nothing more matters or counts. Yes, there were times in the early parts of the careers of many artists, when winning an award was, and perhaps still is, the ultimate desire that acknowledges recognition. Give an actor public recognition through a meritorious award and that could pave the way for any commitment required from him or her. There is a hunger for it - a condition that often gets exploited.
Now of course there are many aspects to an award ceremony and why not ? If the award ceremony is gathering sponsors, selling rights to Tv, making money through advertising, then I feel it only fair that they remunerate those that shall be responsible in setting a grand price during the negotiations with buyers !! And that is what prevails now … which to me makes the award seem a business venture, than one that recognizes talent in the truest sense.

Aahh .. not a very desired topic to be discussing ..

But recognition, yes .. !! A creative monument developed by humans is never considered complete until it is liked or dislike by another human. This would involve showing it off to another or to many. With competition in every walk of life now, it would be difficult to rely on one source. With multiple organisations putting up such award shows, the value I believe of winning has become somewhat mechanical.

I do not know factually, but this is an assessment made by many who dwell in such experiences!!

To all those that gained recognition at tonight's award nite, my sincere congratulations. May you ever prosper and win in achievement, for now and for the time to come …".
Follow Emirates 24|7 on Google News.