Angelina Jolie cooks tarantulas for her children to eat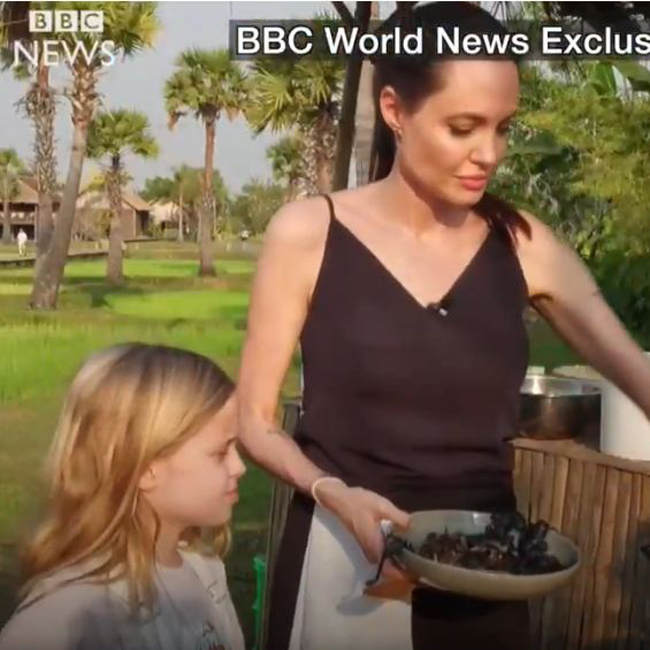 Angelina Jolie cooked tarantulas for her and her children to eat on live television, although the actress has already eaten the delicacy before.
The 41-year-old actress-and-director is currently in Cambodia promoting her new movie 'First They Killed My Father' and showed her familiarity with local delicacies, including the arachnids, scorpions, and crickets, as she demonstrated how to prepare, cook and eat the grubs to her brood, Maddox, 15, Pax, 13, Zahara, 12, Shiloh, 10, and eight-year-old twins Knox and Vivienne.
Speaking in a video interview with BBC World News, she said: "See the hard part where you have the teeth? Take the fangs out.
"I think it's always been a part of the diet [in Cambodia], the bugs, but then I think there is a truth to the survival during the war of course when people were being starved they were able to survive on things like this and they did."
Angelina first tried insects and arachnids when she adopted Maddox from Cambodia as a baby and explained how best to start sampling the delicacies.
She said: "I first had them when I was first in the country.
"Crickets, you start with crickets. Crickets and a beer and then you kind of move up to tarantulas."
Angelina prefers eating spiders to scorpions because they have "good flavour" and are easier to tuck into.
She said: "[Spider] it's actually really good the flavour. It's hard to chew the scorpion."
But her brood - who she has with estranged husband Brad Pitt - don't share the same opinion and likened the taste to "flavourless chips".
Knox said: "[It tastes like] dry chips. Yeah, like, flavourless chips."
Follow Emirates 24|7 on Google News.