Anna Kendrick says Blake Lively has 'a dark side'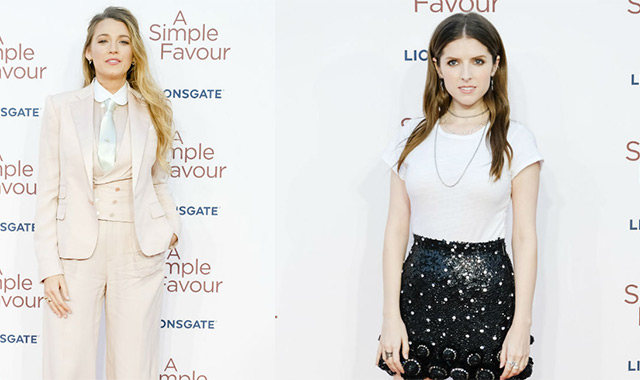 According to Anna Kendrick, her 'A Simple Favor' co-star Blake Lively has a "dark, funny side".
The 33-year-old actress - who stars alongside Blake, 31, in the new Paul Feig directed drama movie 'A Simple Favor' - has revealed that Blake's real-life personality is a little different to how she's perceived by the public.
Speaking at the 'A Simple Favor' premiere at the BFI Southbank in London on Monday night (17.09.18), Anna explained: "I mean, she's never evil but she does have a dark, funny side. So, it wasn't shocking because people think of her as a real sweetheart, which she is ... but it was definitely not a surprise to me because once you get to know her a little better, she'll definitely talk with the best of them."
Blake - who is married to fellow Hollywood star Ryan Reynolds - also joked that the movie afforded her the opportunity to embrace her "dark" side.
The actress - whose on-screen character disappears in the film - told talkRADIO: "It was like all the facades that I'd put up had just let go. So you guys got to see the real me. I'm just like a dark, horrible person and I got to let my flag fly. So there you go, the real me."
Blake's character uses a lot of X-rated language in the new movie, and the American star - who considers herself to be "very proper in real life" - admitted that some of the explicit language that she and Anna used couldn't make it past the final edit.
She confessed: "We actually had some that were so nasty they could not make it into the film. But we're both very proper in real life, so we couldn't even say the words.
"We would be like ... [mumbles swear words]. We would speak in code of what the words started with, rather than saying the actual word. But when we were on camera it was like ... I mean, sailors have nothing on me. But as soon as we cut we were like, 'Um, is that okay?' "
Follow Emirates 24|7 on Google News.