Anushka Sharma will have to leave Virat for World Cup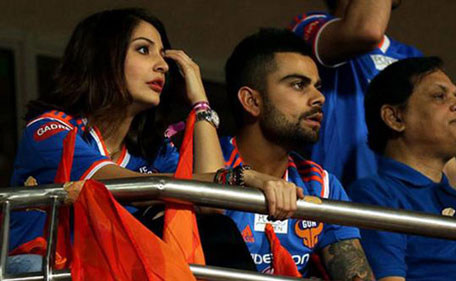 The Board of Control for Cricket in India (BCCI) doesn't want their cricketers to lose sight from the World Cup trophy.
Hence the board has decided Team India players will not stay with their home-grown trophy (wives & girlfriends) during the tournament, starting from February 14.
This effectively means Valentine's Day will not be strewed with roses and heart-shaped balloons.
The BCCI have not made a formal announcement yet, but wives and girlfriends (WAGS) will not be allowed to not share room with Team India players during the World Cup.
Bollywood actor Anushka Sharma seen with beau, Cricketer Virat Kohli. (Twitter: @saniyaazad)
That also means, after the on-going tri-series in Australia Anushka Sharma will have to say good bye to beau Virat Kohli.
The two will have to bear the intense 44-day separation where India will end up playing nine matches should they reach the final on March 29.
But then this ruling by the BCCI is not new. The board is sticking to the previous World Cup dos and don'ts. It has rules that during big tournament like the World Cup, the cricketers should stay away from distractions (read wives & girlfriends).
However, a small window will be provided to the wives during long tours, involving Tests and ODIs. The girlfriends do not qualify for this privilege.
Anushka Sharma with Virat Kohli in Sydney. (Twitter)
The BCCI has no problem if WAGS and family members are in Australia to watch the World Cup, only as long as they are not staying with the team.
Last summer, during the India series in England, vice-captain Kohli received lot of flak for his failure with the bat for being 'distracted' with girlfriend Anushka Sharma co-habiting with him.
But Kohli didn't care two hoots and came out with guns blazing soon after.
The distraction theory took a backseat when cameras captured Anushka at the stands beaming proudly at her man in shining armour.
Blowing a kiss to his girlfriend is the current fashion after each Kohli century.
In the just-ended Australia series this time, with the added burden of captaincy on him, Kolhi toed the official line and Anushka opted to stay in a nearby hotel, or in some instances, even in the same hotel as the team but in a separate room.
Keeping in mind the grueling tour, the BCCI had allowed cricketers' wives to stay with the players, but girlfriends were not allowed.
However, the board cannot stop families (and friends) to join the World Cup frenzy Down Under and the hotels neighbouring Team India will see some celebrities hopping in and out.
We are sure even Virat would want the claming effect of Anushka during the exhausting tour.
Follow Emirates 24|7 on Google News.