Are Ranveer, Vivek, Ameesha, Asin doomed to be in Bollywood's 'losers' club?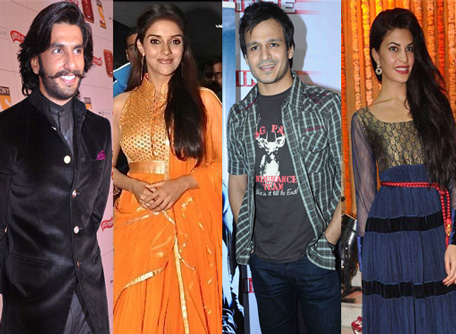 Getting an award for your first-ever movie performance can be a huge boast for any actor, but in Bollywood, it's something that's known to cut short their career altogether.

New actors prefer to be ignored at the award ceremonies because it only means that their shelf-life remains untouched.

The debutant award jinx is even highlighted in director Madhur Bhandarkar's 'Heroine', where a starlet refuses to accept the honour because she doesn't want to ruin her career.

"It's almost like a joke now. Everyone pokes fun at those who get the debutant awards," claims a Bollywood trade magazine writer.

With so many acting careers at stake, we step back in time and list out some of the biggest debacles in Bollywood.
(AFP)

Ayesha Takia

The voluptuous beauty took home a few awards for 'Tarzan: The Wonder Car'. Her effortless charm won her some good movie parts, but Ayesha could never sustain her place.

Although her innocent, girl-next-door image was appreciated, Ayesha never really made it to the big league.

Barring one critically-acclaimed performance in Nagesh Kukunoor's drama 'Dor', Ayesha didn't create any impact.

A wedding later, Ayesha does make a beautiful picture at Bollywood parties, but there are no real plans for her to make a comeback.

Let's just say she didn't belong here, anyway.
(AFP)

Vivek Oberoi

He was the unanimous choice for the 'best debutant' in 2002. His robust performance in Ram Gopal Varma's 'Company' won him immense critical and box-office acclaim.

Everyone predicted he'd be the next-big-thing in Bollywood, but his bloated ego played spoilsport.

It was his attempt to take on his then actress-girlfriend's ex-lover that cost him his seat in B-town. He not only ended up looking stupid, the lady he had defended also left him.

He ended up with very, unimpressive movies, and no friends to call his own.

"Vivek ruined his own career. He's a bright actor, but he is unable to keep a tab on his ego," opined a Mumbai reporter.

Although he did some commendable work in 'Saathiya', 'Omkara' and 'Yuva', Vivek has since failed to do anything remotely substantial.
(AFP)

Aftab Shivdasani

After making an impressive start as a child artist, Aftab was confident he'd crack the winning formula.

His debut in 1999 for 'Mast' was well-appreciated, with the actor taking home two 'promising newcomer' trophies.

He even backed it up with a 'best villain' performance in his second film 'Kasoor'. But that was the beginning of his disastrous run.

Aftab has never really outshined in any movie after that, and he constantly finds himself pitched in a crowded ensemble cast.

Since then, he has succeeded in bagging many movies but none that was outstanding or worth a mention. Now, he's often seen flashing his dimples or sporting hot girlfriends, or attempting to play celeb cricket.

At least, he has devised a way to stay in the news, despite making little or no effort in resurrecting his acting career.
(AFP)

Ameesha Patel

Her entry into filmdom was like a cake-walk. She was cast opposite the dashing (then) star-kid Hrithik Roshan in a movie ('Kaho Na Pyar Hai') that turned into a raging blockbuster.

Her act won her every fresher award in the industry, and critics vouched for her success.

She followed it up with a striking performance in 'Gadar', with industry expert Taran Adarsh claiming, "Despite being one-film-old, Ameesha Patel deserves full marks for handling the complex role with elegance."

A string of flops, broken family, and a turbulent relationship later, Ameesha ended up crushed and lonely.
(AFP)

Fardeen Khan

He is Bollywood royalty, with his father, the late Feroz Khan, a famed actor, and his uncles Sanjay Khan and Akbar Khan, equally popular performers.

However, after bagging the 'debutant award' for 'Prem Agan', Fardeen was unable to match up.

He remained a mere good-looker and nothing more, with a few infamous police cases that ended up disgracing him.

While he did win a few movies with multiple starcast, he has never single-handedly ensured the success of any film.

Now, that's a clear sign of not-so-happy endings in this story.
(AFP)

Zayed Khan

Cousin to Fardeen, the bad luck clearly has rubbed off on Zayed as well.

He did walk away with the Zee Cine Award Best Male Debut for his 2003-movie 'Chura Liyaa Hai Tumne', but there ended his Bollywood journey.

He did bag a few big banners, but always ended up with the supporting roles that got not more than a few on-screen minutes.

Even his more successful brother-in-law Hrithik Roshan couldn't help him float a solid acting career.
(AFP)

Omi Vaidya

He made a roaring impact with his 'balatkar' statement as the geeky Chatur Ramalingam in '3 Idiots'.

To steal the limelight when you are sharing the screen space with the legendary Aamir Khan is no mean feat, and deserves an award no doubt, and that year he took home most of the 'newcomer' honours.

However, Omi was unable to measure up to his hilarious act with his subsequent performance in the rom-com 'Dil Toh Baccha Hai Ji'. A few supporting roles later, his American twang jokes appear a bit staid.
(Sanskriti Media & Entertainment)

Jacqueline Fernandez

This Sri Lankan beauty got to debut with none other than Amitabh Bachchan. Their magical tale did cast a spell on the jury members for a few movie awards, winning two new face awards. But that was it.

She is only five movies old, and it would be a little premature to make predictions about her career. But her current path isn't too promising.

A love-affair with the bulky, funny-man Sajid Khan is what is slowing down her journey. And, it shows.
(Supplied)

Asin

Although she made a huge splash and held her own in front of Aamir Khan in the hugely successful action thriller 'Ghajini', and even won the prestigious Filmfare Award for Best Female Debut, Asin failed to
create any real impression.

She followed 'Ghajini' with the box-office dud 'London Dreams'.

While she did resurface with a slot in the elite INR 100 crore club, her part in hit movies like 'Ready', 'Housefull2', and 'Bol Bachchan' have only been decorative and nothing else.
(Sanskriti Media & Entertainment)

Ranveer Singh

He was touted to be the next hot star. His first act in 'Band Baja Baraat' had floored the critics and audience alike, but he's yet to justify his B-wood slot, just yet.

While he won almost all the debutant awards of 2011, he was unable to sustain the applause with his next act, which was the box-office turkey 'Ladies versus Ricky Behl'.

Even though he has garnered enough column space in tabloids, Ranveer is yet to create his mark as an actor.

He's fairly new and it would be unfair to bracket him in this slot, but looking at his graph so far, we can only predict a dull one.
ALSO READ:
Bollywood face-off: Akshay Kumar ready to take on Salman Khan this summer
What lies ahead for Aishwarya and Malaika as they turn 40 this year



Bollywood wedding: Diya, Emraan, Jacqueline wish Udita Goswami & Mohit Suri
Follow Emirates 24|7 on Google News.