Ariana Grande engaged?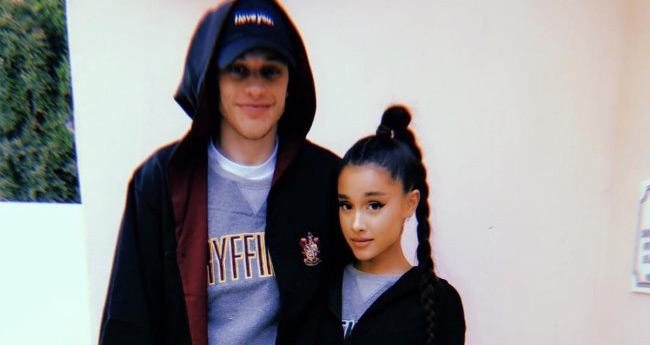 Ariana Grande and Pete Davidson are reportedly engaged, after having been dating for just a few weeks.
The 24-year-old singer and the 'Saturday Night Live' star have only been dating for a few weeks, but it seems as though they've decided to take their relationship to the next level as a source close to the pop megastar has claimed the pair are set to get married.
Speaking to People magazine, the source said: "It's a recent engagement. They're just two people who found love quickly and make each other happy all the time. They both started talking about it this past weekend. It's nothing they've been hiding."
The 'No Tears Left To Cry' hitmaker began dating Pete, also 24, shortly after she announced her split from rapper Mac Miller in May this year.
The new couple first made themselves Instagram official at the end of May when Pete uploaded a snap of them dressed in matching 'Harry Potter' robes.
Ariana was seen wearing Slytherin robes in the picture whilst Pete wore Gryffindor ones, in an Instagram post which was captioned: "the chamber of secrets has been opened ... (sic)"
The 'Dangerous Woman' singer then commented on the post with a cheesy 'Harry Potter' pun, and joked she would delete her account.
She replied: "u tryna slytherin (I'm deleting my account now). (sic)"
Previously, Ariana slammed her two-year romance with Mac, as she dubbed the time they spent together as "toxic".
Hitting back at a fan who suggested she should've stayed with Mac, Ariana wrote on social media: "How absurd that you minimize female self-respect and self-worth by saying someone should stay in a toxic relationship because he wrote an album about them, which btw [by the way] isn't the case (just Cinderella is ab [about] me). I am not a babysitter or a mother and no woman should feel that they need to be. I have cared for him and tried to support his sobriety & prayed for his balance for years (and always will of course) but shaming/blaming women for a man's inability to keep his s**t together is a very major problem. Let's please stop doing that. of course I didn't share about how hard or scary it was while it was happening but it was. I will continue to pray from the bottom of my heart that he figures it all out and that any other woman in this position does as well (sic)"
Follow Emirates 24|7 on Google News.