Ariana Grande suffered PTSD after Manchester terror attack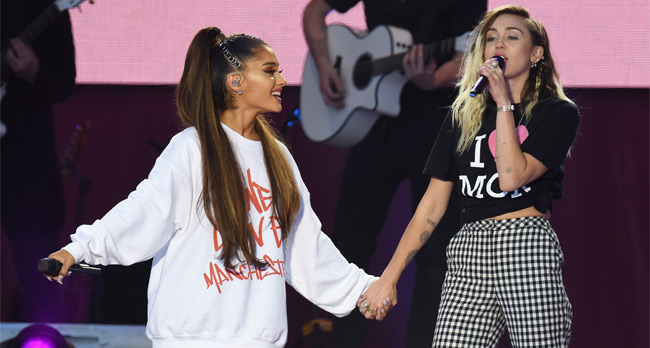 'No Tears Left To Cry' singer Ariana Grande has revealed she suffered with post-traumatic stress disorder in the aftermath of the Manchester terror attack.
The 'No Tears Left To Cry' hitmaker had just finished performing at the Manchester Arena on May 22 last year when a suicide bomber claimed the lives of 22 concert goers and injured hundreds more.
Opening up on how she felt following the horrific incident, she explained to British Vogue magazine that the dizziness and anxiety she felt were signs of PTSD.
She said: "I hate ... yeah ... admitting it but it very much is. That's what everyone was telling me. It's hard to talk about because so many people have suffered such severe, tremendous loss.
"But, yeah, it's a real thing. I know those families and my fans, and everyone there experienced a tremendous amount of it as well."
The 24-year-old singer is reluctant to open up about her own experiences because of the suffering felt by others, but admitted she struggles to speak about it without breaking down.
She added: "Time is the biggest thing. I feel like I shouldn't even be talking about my own experience - like I shouldn't even say anything. I don't think I'll ever know how to talk about it and not cry."
Ariana returned to the city a week later to host the One Love Manchester benefit concert featuring the likes of Miley Cyrus, to help raise funds for those involved, and has recently praised those in attendance for helping to turn something "heinous" into "something beautiful".
She told the Summer Music issue of Fader: "The fact that all of those people were able to turn something that represented the most heinous of humanity into something beautiful and unifying and loving is just wild.
"We're in such a trying time and people have been responding with acceptance, love, inclusion, and passion. This generation, they're standing up and they're not going to take no for an answer."
Follow Emirates 24|7 on Google News.