Ariana Grande will take Pete Davidson's surname when they wed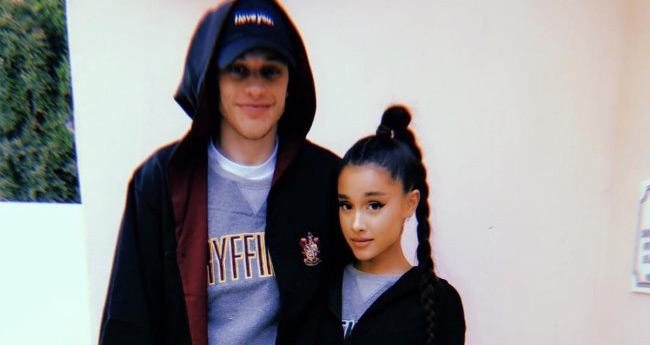 Ariana Grande has confirmed she will add Pete Davidson's surname to her own to create a double barrel when they get married.
The 'No Tears Left to Cry' hitmaker has admitted she's planning to combine her last name with her fiancé's to create a double-barrelled moniker once they've tied the knot, but eventually she'd like to be known professionally as just "Ariana".
Speaking to Ebro Darden on Apple Music's Beats 1 over the weekend, the 25-year-old explained that she was planning to use Pete's surname but she doesn't want to ditch her last name because she's "proud" of her family moniker.
She added: "I feel like I'd eventually just be Ariana. Isn't that sick? I feel like it's got a ring to it. 'I have to keep "Grande" because of my Grandpa. I think of him with everything I do in it and he was so proud of our name, I should keep it."
Ariana and Pete got engaged a few months ago - just weeks after they started dated - and they're hoping to become husband and wife within "months."
She explained when pressed on a time scale: "Months, more. Years, less."
The brunette beauty would also like to have three children with the 24-year-old comedian but is focusing on her music at the moment.
She said: "I have a lot of decisions to make but I also have an album to drop and a tour to finish before I make any of these decisions so I'm going to keep my fans as first priority."
Meanwhile, Pete recently admitted that he knew it was love at first sight with Ariana and actually asked her to marry him the first day they met one another.
He explained: "The day I met her, I was like: 'Hey, I'll marry you tomorrow.'
"She was calling my bluff. I sent her a picture [of engagement rings].
"I was like: 'Do you like any of these?'
"She was like, 'Those are my favourite ones.'
"And I was like: 'Sick.' "
Follow Emirates 24|7 on Google News.