Arnie, Stallone have surgery together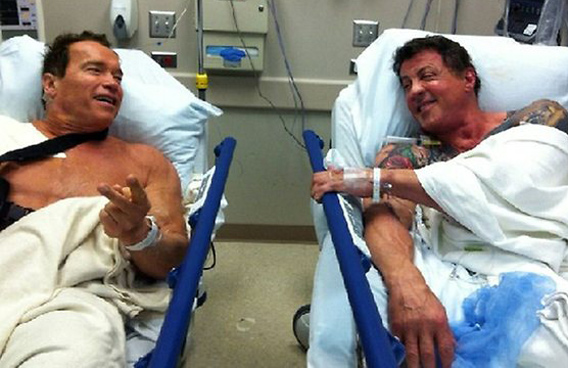 Action heroes who get surgery together, apparently stay together.

Arnold Schwarzenegger, 64, and Sylvester Stallone, 65, got matching his 'n' his shoulder reconstructions yesterday and tweeted a photo of the pair bonding during their hospital stay.
The sexagenarians "coincidentally" ambled up for the procedure after stunt-related injuries on their latest film The Expendables 2 took their toll.
But it mustn't have been enough to scare the ageing action heroes away from the genre, announcing they would again be co-starring in another high-octane movie called The Tomb.
Schwarzenergger wrote alongside the photo:

@SchwarzeneggerAfter all the action, stunts & physical abuse shooting The Expendables 2 and The Last Stand, it was time for a little tune up on my shoulder. Look who was coincidentally waiting in line behind me for his shoulder surgery. Now we're ready for another round of great times and action when we shoot The Tomb. #greattobeback say.ly/ePS1oo4
The announcement of the pair's new film alongside the photo lead to speculation the picture could be simply a publicity stunt.
The fact Stallone also appears to have a syringe sticking out of his neck also lead sceptics to suggest it may have been a spoof.
In their latest project, The Tomb, Stallone will play a man who designs an inescapable high-tech prison, who becomes a prisoner after being double-crossed.
Schwarzenegger will play a friendly fellow inmate who helps Stallone in his quest.
Follow Emirates 24|7 on Google News.