Asha Bhosle abandons Oman Valentine's Day concert midway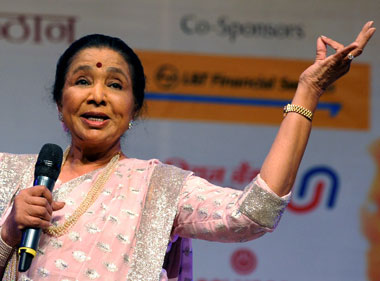 On Valentine's Day, City Amphitheatre in Qurum was packed with music lovers waiting to hear legendary Indian singer Asha Bhosle.
But Asha Bhosle abandoned her concert in Oman capital Muscat midway, disheartening thousands of fans.
The singer, who was performing at Royal Oman Symphony Orchestra's 'Asha Bhosle Live' along with singer/actor Sachin, reportedly left it halfway owing to 'bad sound system'.
Repeated attempts to contact the singer failed.
According to Oman media reports, the show was organised to mark 60 years of diplomatic ties between India and Oman and it coincided the end of month-long Muscat Festival, an annual cultural extravaganza.
The concert has been organised by Light & Shadow Enterprises which also hosted 'Temptations Reloaded' with Bollywood stars Shah Rukh Khan, Katrina Kaif, Priety Zinta and Ali Zafar in 2013.
The organisers issued a clarification that the matter is being looked into and they are conducting an enquiry to check what went wrong, the Times of Oman reported.
The sound system was checked thoroughly before the concert but what actually happened during the course of the concert is puzzling.
The daily quoted a spokesperson of Light & Shadow Enterprises, apologising for the "inconvenience it caused to the audience".
Also see: Movie Listings in UAE
Follow Emirates 24|7 on Google News.