Australian Open finals: Kim Sears wears T-shirt bomb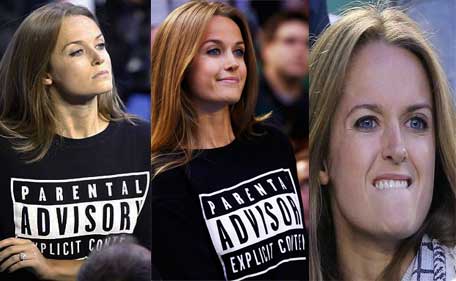 There were chances of children being exposed explicit language and violent reactions during the Australian Open men's final on Sunday (Feb 1).
Not from the two men (Andy Murray and Novak Djokovic) fighting in the middle for the championship but from a special spectator in the family box.
Kim Sears, fiancee of Andy Murray of Britain, applauds before his men's singles final against Novak Djokovic of Serbia during the men's singles final at the Australian Open tennis championship in Melbourne, Australia, Sunday, Feb. 1, 2015. (AP)
Murray's fiancee, Kim Sears, dressed with a warning for Sunday's final in an oversized T-shirt with a message that poked fun at the widespread attention paid to her use of colorful language during Murray's semifinal.
Kim poked fun at world's reaction to her foul-mouthed rant with 'Parental advisory explicit content' T-shirt.
It's nothing less than a T-shirt bomb on people making a big deal out of her outburst.
(Reuters)
The warning is regularly seen on music covers to avoid impressionable youngsters hearing foul language.
This was her response to the uproar after footage emerged of her appearing to repeatedly swear in the direction of the Murray's semi-final opponent Tomas Berdych.
(Reuters)
Sears was trending on Twitter after the emergence of the footage, with the moment captured at the end of a tense first set against Berdych.
Various lip-reading experts offered their view of what was said, with the common consensus being that the f-word featured repeatedly in the short rant.
(Reuters)
And while the world reacted with a mix of surprise and even indignation, during the final Ms Sears stood defiant with an air that says, "I give a damn".
And while Murray suffered a sixth grand slam final defeat, losing to Novak Djokovic in four sets in Melbourne, his fiancee appears to have won the day.
Andy Murray of Britain reacts after hitting a shot against Novak Djokovic of Serbia during their men's singles final match at the Australian Open 2015 tennis tournament in Melbourne February 1, 2015. (Reuters)
Sears showed the ability to laugh at herself and poke fun at world's reaction to her foul-mouthed rant.
Both the #kimsears and #kimswears hashtags were trending on Sunday again, with BritishTennis tweeting: "We think #kimsears just won the #AustralianOpen."
The official Twitter account of the tournament, @AustralianOpen, replied to that message saying: "Unofficially, we would have to agree with that! #ausopen."
Also see: Movie Listings in UAE
Follow Emirates 24|7 on Google News.