Azarenka sets up Australian Open final with Li Na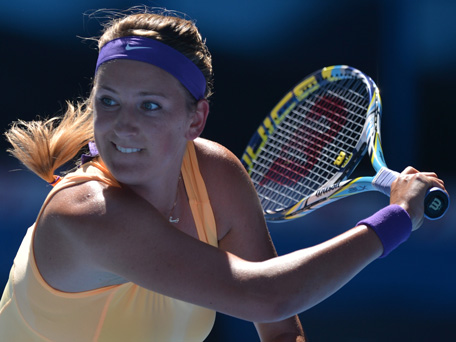 Defending champion Victoria Azarenka suffered a panic attack trying to close out her Australian Open semi-final against American teenager Sloane Stephens on Thursday and needed a long medical timeout before setting up a final against Li Na.
Immovable object Li had earlier laid waste to the supposedly irresistible force of Maria Sharapova on a blazing hot day on Rod Laver Arena to reach her second Melbourne Park final.
Azarenka complained of knee and rib injuries but was clearly struggling for breath as she headed off court for a lengthy timeout after failing to convert five match points towards the end of her 6-1 6-4 victory.
"I almost did the choke of the year right now," the world number one said at courtside.
"At 5-3 having so many chances, couldn't close it out but I'm glad I could close it out. Nerves got into me for sure.
"It was important to overcome this struggle and finish this match."
Sixth seed Li's 6-2 6-2 victory over four-times grand slam winner Sharapova was more comprehensive and the 30-year-old Chinese now gets a chance to add another to her impressive list of firsts in Saturday's final.
The Australian Open markets itself as the "Grand Slam of the Asia-Pacific" and Li, whose first trip to the Melbourne Park final ended in defeat to Kim Clijsters in 2011, has a second chance to give the tournament its first Asian champion.
"I'm really hungry for the title," the former French Open champion told reporters. "I think this time should be maybe a different story or maybe the same story. But I will try."
Second seed Sharapova had carved her way ruthlessly through the draw at Melbourne Park, conceding only nine games on her way to the last four encounter with the former French Open champion.
Li, reinvigorated by Justine Henin's former coach Carlos Rodriguez, has also been in impressive form this year and will be confident she has the measure of Azarenka.
Certainly on Thursday she showed none of the mental frailties that have dogged her in the past as she thrashed Sharapova, who had ridden her own fierce concentration through a string of one-sided affairs in the earlier rounds.
"At beginning of the match I was nervous," said Li. "I was happy to be back in the semis again, but for some reason I really wanted to win the match.
"I don't know what happened today. I just come to the court, feeling like, 'Okay, just do it'."
The Russian, who lost just as comprehensively to Azarenka in last year's final here, was broken in her first service game and never really recovered.
"When your opponent is always up and ahead, it's always a little bit mentally easier for them to keep that going," said Sharapova.
"If I would have taken those chances and clawed my way back and made it a bit tougher for her, I'm sure she would have thought a little bit more. But I certainly didn't make her think about anything."

IMPROVED FOREHAND
Rodriguez has also made some technical changes to Li's game and the forehand that was once seen as her weakness was responsible for 10 of her 21 winners as she improved her head-to head record to 5-8 against Sharapova.
"She's playing really confident tennis," said Sharapova. "I thought she played really well, probably the best she's played against me."
Stephens had less than 24 hours to enjoy her status as the "next big thing" in women's tennis before her first grand slam semi-final.
Her upset of an injury-hampered Serena Williams on Wednesday was a huge favour to Azarenka, who has a 1-12 record against the 15-times grand slam champion, but the Belarusian was in no mood to give thanks.
The world number one whipped through the first set in 33 minutes and was on course to win the second in similar style until she gave up five match points and was broken back for 5-4 in the second.
Azarenka disappeared into the dressing room for nearly 10 minutes and returned to convert her sixth match point when Stephens, who lost five of her seven service games, slapped the ball into the net.
Follow Emirates 24|7 on Google News.