Babymoon: Kanye West takes Kim Kardashian to Rio de Janeiro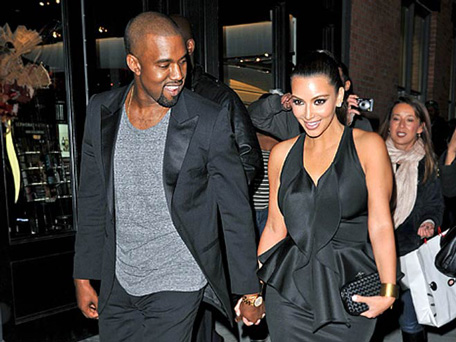 Kanye West has whisked pregnant Kim Kardashian to Rio de Janeiro for a second babymoon after she was told to relax by her doctors.
The couple - who are expecting their first child in early June - were spotted enjoying a romantic lunch at the Braseiro Gavera restaurant in the Brazilian city on Friday (08.02.13).
The 'Mercy' rapper was later seen presenting Kim, 32, with a small gift during a visit to the popular tourist spot the Chinese View after their lunch and the duo were said to be extremely affectionate as they held hands.
Kim appeared to be thrilled with her surprise, according to E! News, and was seen with a huge smile on her face.
The couple, who have been dating for almost a year, enjoyed their first babymoon in Paris last month.
The couple browsed the latest collections in designer stores Lanvin and Celine, and were photographed enjoying a number of low-key dinners.
During the trip, Kanye, 35, gave his brunette girlfriend five gold Cartier bracelets, worth a reported $65,000.
The couple's latest holiday comes after a tough week for Kim, during which she was warned by her doctor to relax because the stress from her divorce battle with her estranged husband Kris Humphries could harm her unborn baby.
Her mother Kris Jenner recently revealed: "Kim has been going through this divorce for months. She has been under a lot of stress because of it and the doctors told her she had a really tough week and the stress could become a problem if she isn't careful."
Her basketball star ex and his lawyer filed new documents in court this week, complaining that the divorce was being unnecessarily rushed through the courts because of Kim's "unplanned pregnancy".
Follow Emirates 24|7 on Google News.