Bald and handsome of Bollywood: Saif Ali Khan, Salman Khan...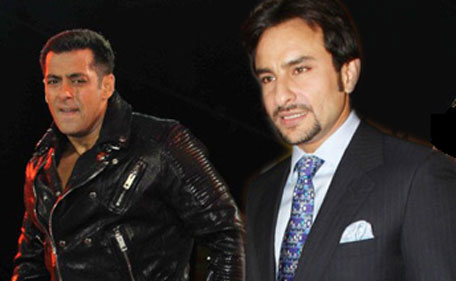 One look at Emraan Hashmi's hairstyle in Mohit Suti's film Mr X and we know that actors are getting serious about the way the look on screen and want to experiment different looks not just in terms of their dressing, but also in terms of their hairstyle. Hashmi has opted for this look in a film where he looks not much different from a lab rat used in an experiment.
We did see Shahid sport a close-to bald look in the film 'Haider' for Vishal Bharadwaj, in the Indian adaptation of Hamlet. The shooting of the film is talking place in Kashmir and Shahid has done away with his hair for most part of the film. Shahid will be seen with longer hair as well, but this look clearly sets the tone for a different looking Shahid.
Vishal Bharadwaj prefers some of his men to look real and hence the bald look. Something that he had done to the now husband of Shahid's ex-girlfriend Kareena Kapoor. Vishal had got Saif to have a similar look when he played the role of Langda Tyagi in Bharadwaj's film Omkara. The film which was based on Othello turned out to be a turning point in Saif's career and Shahid hopes that it would do the same to him.
"I thought it is justified to have that kind of a look for the film. When I read the script, I found it very interesting and I have tried to do something shocking whenever I have worked with Vishal. With him I have always tried to do something different," says the actor who has done Kaminey with Vishal before hoping that his sacrifice will not be in vain.
Aamir Khan was the first actor in recent times who sacrificed his mane for the film Ghajini… and the actor managed to make the film into the first movie in the Rs 100 crore club. The Aamir Khan look in the film was the talk of town as the film chugged its way to become a box office sensation.
Shah Rukh Khan did not go bald, but then he convinced co actor Arjun Rampal to go bald in order to play the title role in the film Ra.One. Arjun won a lot of accolades for the hairless do.
Salman Kahn did have a semi bald kind of a look for his film Tere Naam. The second part of the film which had him as Radhe did see Salman have a tough look with less hair after the earlier character of the fun loving Radhe did see him sport longer hair using extensions.
Sanjay Dutt decided to go bald when he wanted to play the menacing character of Kancha Cheena in the Karan Johar produced Agneepath when he had to take on the might of Hrithik Roshan in the film.
And yes, in recent times Amitabh Bachchan did so too. But then he didn't have to shave off his hair. He did use a lot of prosthetic make up to look different in the film Paa in the character of Auro.
Follow Emirates 24|7 on Google News.