Beauty on the beat: Madonna's Instagram teaser...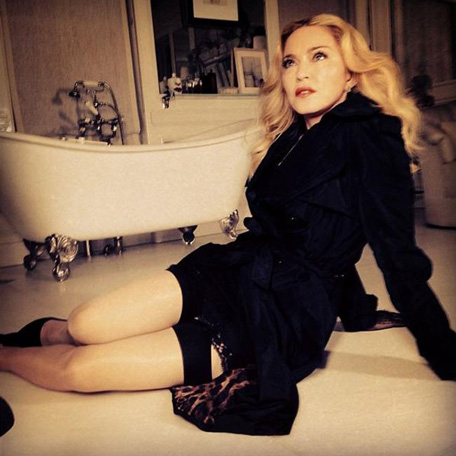 Madonna has hinted she could be launching a skincare line by posting a teaser image on Instagram.

Madonna is rumoured to be launching a skincare range.

The singer sparked speculation she was branching out into the beauty industry by posting a cryptic picture on Instagram.

The 55-year-old superstar shared a glamorous picture of herself posing seductively on the bathroom floor, with the accompanying caption reading, "She's done for the day! Bath or shower? #MDNASKIN."

While her followers were quick to chime in with their personal preferences, with one writing, "Salty bubbled bath way more relaxing !!! (sic)", it appears Madonna could have actually been teasing a future project.

The hashtag takes you through to a campaign image for what appears to be a new Japanese skincare brand, MDNA Skin, which says it is due to be "unveiled" on February 12.

Madonna already boasts a fragrance range, Truth or Dare, as well as a clothing line called Material Girl which she launched in 2010 with her teenage daughter Lourdes.

Rita Ora currently the face of the youthful clothing line, with model Georgia May Jagger and The Pretty Reckless singer Taylor Momsen previously fronting campaigns for Madonna.

Cate Blanchett's speedy beauty routine

Cate Blanchett admits she often applies her make-up on the go because her mornings are so busy.

Cate Blanchett says her make-up routine is "fast and furious".

The Oscar-nominated 'Blue Jasmine' actress hardly spends any time on her appearance in the mornings because she is rushing to get her sons Dashiell, 12, Roman, nine and Ignatus, five, ready for school.

She told Britain's InStyle magazine: "I have three boys so my mornings are early, fast and furious, and I've had to get my beauty routine down to a few minutes. I'll put on serum, moisturiser and, because I live in Australia, I'll wear SPF 30 every day, even in the winter."

Cate has developed a host of tricks to get ready on the go, including carrying dry shampoo and minimal make-up.

She added: "If I haven't washed my hair - which is often, I'll use Philip Kinglsey One More Day dry shampoo and invariably I'll end up applying cream blush and mascara in the car."

The actress takes an equally laid-back approach to manicures and pedicures and joked she is often embarrassed on photoshoots.

She said: "I don't have time to get regular manis and pedis. Whenever I'm at a photoshoot, it's terrible - the manicurist will give me a look of horror as if to say, 'When did you last have a pedicure?' "
Follow Emirates 24|7 on Google News.