Beckham takes fashion risks - and sees payoff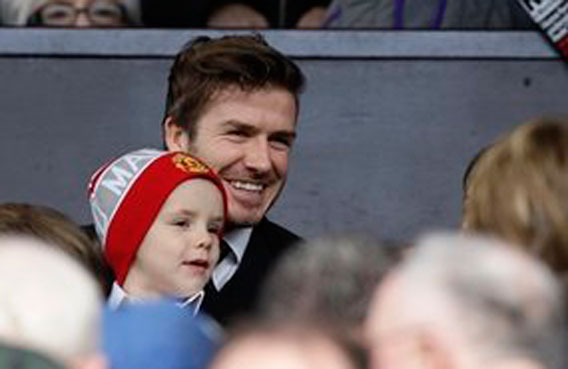 Victoria Beckham says, six seasons into her fashion brand, she's a more confident designer and a more confident person, and that allows her to take risks beyond the structured cocktail dresses that gave her cred with a famously finicky industry.
For her Sunday morning New York Fashion Week presentation, she wore one of the loose, cashmere cocoon dresses that she said she found intimidating when she was more of a novice. The swing trapeze dress and a multi-metallic honeycomb in a caftanlike silhouette were also items she added to the collection with a surer hand.
These roomier designs take more work, but they are worth it so women can be fashionable - as well as comfortable, explained Beckham, her hair pulled into a long ponytail. (She announced last month that she and husband David Beckham are expecting their fourth child.)
"I designed this collection before I knew I was pregnant," she said with a laugh to the small crowd of editors, retailers and stylists gathered at her favorite Upper East Side mansion runway venue that allows her to individually greet guests.
A red V-neck tunic dress looked the simplest, she said, but "it was a nightmare!"
Using a palette she described as "desert brights," Beckham offered a teal matte gazar V-neck cocoon that she said was "young red carpet," but the finale gown in the same color and fabric was the one to talk about: It had chiffon-covered resin bits arranged in a mosaic pattern that looked like shards of shattered glass around the neckline.
For the first time, Beckham offered coats, including a red raglan-sleeve coat with a buckle at the collar and a super-chic black coat with knife pleats from hip to hem.
She did several dresses with pleats, too, a look she always wanted to wear but couldn't figure out how to until she started placing them below the hip bone. The best versions were a saffron-yellow crepe dress with a halter neck and the honeycomb gown, also with a halter-neck, that had restrained pleats at the top and fuller ones on the skirt. That look, she said, was her favorite.
Beckham - for business or posterity - has numbered in order each style she makes. The fall collection includes look No. 100, which has the more fitted shape with exposed seams and zippers that are her hallmark but adds the wrap shape that she built this season around.
"The 100th dress is a Victoria Beckham silhouette chosen as the perfect representation of everything the collection set out to achieve at the outset," she said in her notes.
Follow Emirates 24|7 on Google News.