Beyonce at Super Bowl asks Aishwarya Rai a question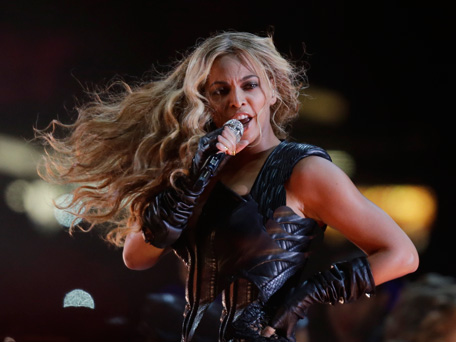 Every time a showbiz mum performs somewhere Aishwarya Rai-Bachchan must surely flinch.
As joy and delight mix with her right to just be 'mom' to her delightful daughter Aaradhya, the fact is, once you carry the title of Miss World; once Oprah refers to you as 'The Most Beautiful Woman on the Planet'; once you marry into the first family of Bollywood – the Bachchans; once you cross-over from Bollywood to Hollywood; once you are the global brand ambassador of major luxury brands; then the world wants to know about you. Every time. All the time.
Ever since the madness surrounding Abhishek Bachchan and Ash's choice to fiercely shield the baby from public view receded – it was replaced by the madness surrounding this question: When will you be back again, Ash?
What does the average entertainment, Bollywood, Ash-obsessed fan mean by 'back again'?
Today's Super Bowl half-time performance allows us to use Beyoncé as a reference point.
Sure she's married to Jay Z. Sure the demands of a pop diva career leave no room for 'baby fat' – at least not in the hyper-sexual R'n'B world (she's no Adele). Sure Beyoncé went through her 'crazy' tweet phase with Blue.
But here is the bottom line - no pun intended.
Ash gave birth to Aaradhya on November 17, 2011. Click to watch a latest video of Ash.
Beyoncé gave birth to Blue Carter Ivy on January 8, 2012. Click to watch her half-time Super Bowl performance.
When will you be back, Ash?
MUST READ:
Congratulations! It's a boy for Priyanka and Vivek Oberoi
Nach Baliye 5: Ex-lovers Akshay Kumar, Shilpa Shetty to face each other
Why Aishwarya, Kajol, Bipasha may not be role models for your kids...
Follow Emirates 24|7 on Google News.