Beyonce talks about miscarriage & lip sync on Inauguration Day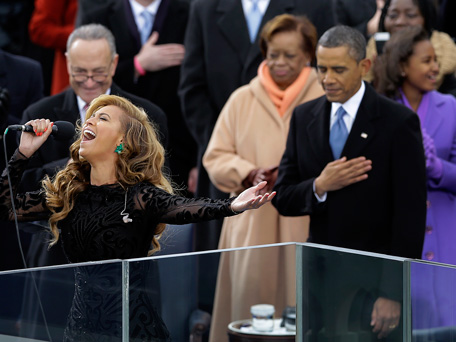 Beyonce, who lost her first baby with husband Jay-Z in a miscarriage two years back, has now discussed the sad event herself in a new documentary.
In 'Life Is But A Dream,' the 31-year-old singer said that she thought the pregnancy was going well, the Mirror reported.
She said in the HBO documentary that during the pregnancy she felt the heartbeat of her baby, which was the most beautiful music that she had ever heard in her life.

The singer asserted that she had already started planning motherhood and had been dreaming about what it would be like.
She said that she picked out names and envisioned what her child would look like. She added that she was feeling very maternal.

But when she went for her next medical appointment, it was very bad news as the doctors were unable to find any heartbeat.
Following the miscarriage, she turned to music to express her feelings.
She added that she went into the studio and wrote the saddest song that she had ever written in her life, which was the best form of therapy for her, as the miscarriage was the saddest thing that she had ever been through.

Beyonce admits Inauguration Day lip sync
Recently, Beyonce faced the music at a press conference before the American football championship Super Bowl, admitting that she did lip sync when she performed the national anthem on Inauguration Day.
The singer said she's a perfectionist and wanted her performance for President Barack Obama to be a memorable one. She called the day emotional.
"I practice until my feet bleed and I did not have time to rehearse with the orchestra," she said. "Due to no proper sound check, I did not feel comfortable taking a risk. It was about the president and the inauguration, and I wanted to make him and my country proud, so I decided to sing along with my pre-recorded track, which is very common in the music industry. And I'm very proud of my performance."

She opened her press conference in New Orleans with a live rendition of the national anthem. She asked those at the conference to stand before she belted "The Star Spangled Banner," and after she said with a laugh: "Any questions?"

The superstar hadn't spoken publicly since it was alleged that she lip-synched her rendition of "The Star-Spangled Banner" at President Barack Obama's inauguration last week.
Her critically praised performance came under scrutiny less than a day later when a representative from the U.S. Marine Band said she wasn't singing live and the band's accompanying performance was taped.
Shortly after, the group backed off its initial statement and said no one could tell if she was singing live or not.
The halftime performance became a main focus of her afternoon press conference, even though she'd likely rather concentrate on questions about her set list for Sunday and her upcoming HBO documentary, 'Life Is but a Dream', which shown for the media just before Beyonce spoke.

Beyonce has teased photos and video of herself preparing for the show, which will perhaps be the biggest audience of her career.
Last year, Madonna's halftime performance was the most-watched Super Bowl halftime performance ever, with an average of 114 million viewers. It garnered more viewers than the game itself, which was the most-watched U.S. TV event in history.
MUST READ:
2 moms in showbiz: Beyonce at Super Bowl asks Aishwarya a question
Super Bowl: Beyonce & Destiny's Child storm the football Game
Selena Gomez wants to date older man, Bieber go wild
Bollywood debut of 'Hottest Indian Woman of the Century': Freida Pinto
Bollywood's bad boys: Aamir, Hrithik, Shah Rukh and now John Abraham
Follow Emirates 24|7 on Google News.