BIG fall! Madonna takes a tumble after wardrobe malfunction on stage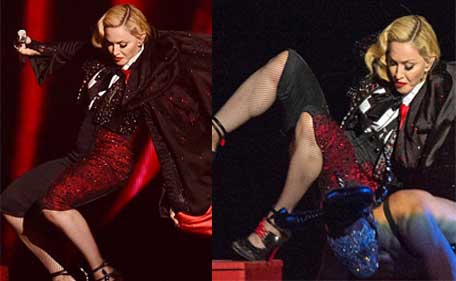 Pop queen Madonna has taken a fall down a small flight of stairs during her first performance at the Brit Awards ceremony in 20 years.
With the final, much-anticipated performance of the night singing 'Living For Love', Madonna failed to untie her cape in time for her dancers to rip it away as she took to the stage at London's 02 Arena.
AP
Madonna dropped her microphone during the fall and missed singing some of the lyrics but managed to get back up and finish the performance.
The 'Material Girl' looked shocked after she fell down a set of stairs, but picked herself back up.
Reuters
The 56-year-old singer took a tumble whilst performing her hit 'Living For Love', ensuring that her first performance at the ceremony for 20 years was a memorable one.
Surrounded by dancers dressed as devils, she strutted around the main stage wearing a black cloak.
Reuters
Whilst her team attempted to remove the garment, she slipped and went tumbling down the short staircase.
Like a true professional, though, she got back up and continued singing the track.
Reuters
Madonna appeared to land on her back with a bang after she fell down a flight of three steps mid-performance. She paused for around a minute where she couldn't muster the strength to sing.
But the singer dusted herself off, brushed over her hair and stood up to ascend the steps once again without her cape.
Reuters
Twitter users took to the microblogging site to share short clips of the fall, with one writing: "People harping on about how Madonna is such a professional, she fell over its hilarious just enjoy it, have a belly laugh. (sic)"
Another user shared: "Jesus you shouldn't laugh but that was hilarious! Madonna one minute #magonna the next! (sic)."
Reuters
Others also expressed their concern for the pop star, writing: "I hope Madonna is ok. I joke about it now but when I first saw her fall, I literally gasped. I was so frightened. Couldn't believe it (sic)"
Another added: "I'm still in shock with @Madonna falling on the #BRITAwards. She's a true superstar to carry on performing after that! I hope she's ok (sic)"
Reuters
Earlier yesterday, Madonna admitted she was nervous ahead of the performance.
She wrote: "Yes...........s****ing myself. Not gonna lie!
"Even though #bitchimmadonna #rebelheart (sic)"
Also see: Movie Listings in UAE
Follow Emirates 24|7 on Google News.