'Bigg Boss 6' contestant Imam Siddique plans to go 'silent' in a film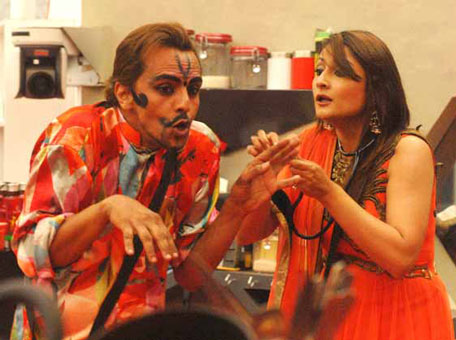 Known for creating ruckus and talking way too much for anyone's liking on reality show Bigg Boss 6, Imam Siddique is now reportedly planning to mkae a movie.

Any guess what kind of movie? Imam plans to make a silent film!

An Indian English daily reported that Imam Siddique is all set to make a silent film on the real life of a Bollywood superstar.

After taking a dig at actor Amitabh Bachchan, Shah RUkh Khan and a tiff with Salman Khan, Imam now plans to bring the focus on the social responsibility of an artist.

"It will highlight the social responsibility that every artist has. I have decided not to use any language in the film, so that people from all parts of the globe can understand it. It will be a silent film with great visual effects", the daily quoted Imam Siddique as saying.

Imam Siddiqui was also nominated as the most irritating inmate on the show.

An image consultant in real life, Imam's outrageous behaviour forced Bigg Boss to evict him unceremoniously during his stay.

Considering his TRP gaining ability, he was later re-called. After his return he continued his menacing act and soar the dipping ratings of the show.

However, during his stay in the show Imam's talent was evident. Where the rest of the inmates in the Bigg Boss house were passive when it comes to performing tasks, Imam takes each of the task seriously and puts in his hundred percent.

From make-up to costumes to acting skills, Imam gets into the skin of the character. When Bigg Boss announced 'Ek Din Ka Baadshah' task and winner Urvashi Dholakia was chosen as the Baadshah of the day, Imam did special make up and made special arrangements to make Urvashi special.

Imam might have been getting into constant fights with the other inmates, but he does know how to keep himself entertained.

During the 'Chahe koi mujhe pagal kahe' task, Imam, along with other contestants like Sana, Rajev and Niketan were asked to play patients.

While Sana, Rajev and Niketan turned 10-year-old kids for the task, Imam tried to tell a story through his act.

He did special make-up to get into the character as well as he carved a face on a watermelon. When Delnaaz asked what he was doing, he told her that the face is that of his ex-lover and he killed her and is carrying her head around. The story spooked out Delnaaz but at the same time she praised Imam for his ideas.

It's not just during this task that Imam brings out his creativity. He has often been seen getting into different avatars to entertain the inmates.

While in the show, after an argument with Urvashi, Imam decided not to enter into a verbal spat with her.

So, in order to portray his anger (one of the navrasas), he took the help of the make-up. His make-up did spook out many in the house without him uttering a single word.

Imam might have got into innumerable fights with the inmates during the show, but he is indeed the most entertaining inmate on the show.

We hope his silent movie is as entertaining as his stint in Bigg Boss.
Follow Emirates 24|7 on Google News.