Bigg Boss 6 Impact: Sapna goes bare, Imam Siddique talks again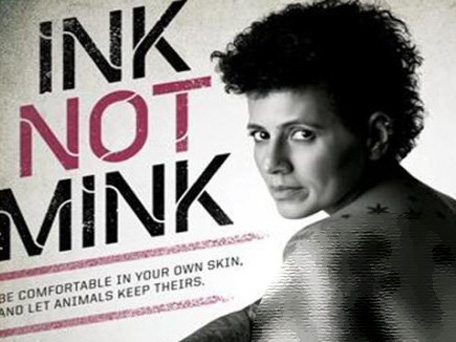 Looks like the contestants of the Indian reality show Bigg Boss 6 is milking the popularity they earned during their television stint, even if it means for a cause.
Celebrity hair stylist and Bigg Boss contestant Sapna Bhavnani posed naked for the latest commercial of PETA.

Sapna, 41, who is known for her tattoos, has appeared in the advertisement which asks people to be comfortable in their own skin and not to use fur and leather items.
Her photo in the advertisement comes with the slogan 'Ink, not mink'.
The hair stylist is an advocate against use of fur and leather. After she educated herself and saw a few films on the cruelty and what happens to animals, she realised that styling oneself with fur and leather was not worth it.

She suggests use of pleather which is a great substitute for leather.
This is not the first time that Sapna has put her weight behind PETA. She appeared two years ago in another PETA ad holding a pair of scissors and posing next to the caption, "Cut Hair, Not Frogs. Choose to Refuse to Dissect Animals".
While Spana is stripping for a cause there is another contestant who is opening his mouth for his own benefit. Imam Siddique is all about and over himself.
Siddique is now taking on all the Bollywood stalwarts from Salman Khan to Shah Rukh Khan and even taking a dig at Amitabh Bachchan.
While in Bigg Boss, Imam Siddiqui, a fashion stylist, television anchor, image consultant and casting director, snubbed host Salman Khan.
During an episode when Salman tried to interrupt Imam to put forward his point of view, Imam cut him short by saying 'Time-Out' continuously. This made Salman lose his patience.
Imam also proclaimed that he had once cast Preity Zinta and Shah Rukh Khan in an ad film which worked in their favour. Imam claimed he has made actor Shah Rukh Khan what he is today. Salman Khan retorted the point and said SRK and Preity's hard work, sincerity, and the love of fans have made them the star they are at present.
Though Urvashi Dholakia won the show and the cash price, Imam, the runners up, seems to be reaping the harvest.
The reality show soared his popularity and now the man will appear in TV comedy series titled 'Nautanki – The Comedy Theatre'.

Siddique, set with his television career, has also been approached for a number of brand endorsements.
So in his happy state of mind shouldn't Siddique be more humble and careful with his comments? Of course not, this is Imam Siddique we are talking about!
Imam continues to take digs at Shah Rukh. While talking about his many offers to make appearances he also mentioned "...I am waiting for Lakshmi Mittal to invite me for the next wedding in his family. He paid a non-dancer like Shah Rukh Rs 2 crore (INR); I will give a better performance for half the price," he said.
He could have stopped at that. But when asked if he will end up pulling his guests' legs in his upcoming comedy show, he candidly said, "I will not only pull their legs, but also their hair pieces off. I hope Amitabh Bachchan never shows up, else I might even pull his toupee (wig) off."
Follow Emirates 24|7 on Google News.