Bigg Boss 7: Is Salman Khan being too harsh on Gauhar Khan?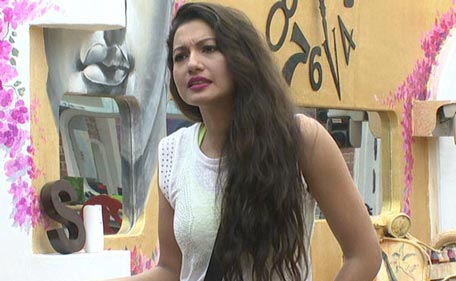 This 'Weekend Ka Wow with Salman Khan' in 'Bigg Boss 7' was all about Gauhar Khan bashing.
After Bollywood actor Salman Khan, who hosts the reality TV show Bigg Boss, lashed out at TV actor Kushal Tandon around 3 weeks ago for being rude to actor Tanishaa Mukherji, a number of fans took to Twitter and protested, calling him 'unfair'.
Ever since Salman trashed Kushal and later he was evicted for violence against Andy, people have been debating the superstar's credibility as the host of the reality show.
'Unfair Salman' was trending and that forced the actor to come on Twitter to give an explanation.
In the next weekend episode Salman went all out to prove that he was not biased. The chapter was then considered close.
But ever since, every weekend Salman brings up the topic of Kushal and in his own subtle way supports Tanisha, also trying to prove that Kushal was wrong.
Kushal might have been wrong, but he is out of the house - so, why is Bigg Boss bringing him up again and again? Is it because they know discussing Kushal hooks viewers to the channel?
Salman also makes sure to chide Gauhar Khan for being vocal; important to remind viewers that Gauhar supports Kushal and she doesn't share a good rapport with Tanisha.
This weekend Salman Khan began the show by asking the inmates if they wanted Kushal to return to the house.
When most of the contestants said that Kushal's return would mean anyone could break rules, threaten people and be back on the show, Salman made it clear that he did not want Kushal back on the show.
When Gauhar tried to argue that there were other people who were breaking rules and continued to be on the show, Salman cast her aside and moved on to the other inmates who have broken rules and been violent in their attitude.
Salman even questioned Gauhar on her remarks on Elli Avram which described the foreign beauty as "just a face". Salman gave his own version of what Gauhar might have meant when she called Elli "just a face".
Being a superstar Salman has millions of die-hard fans and when this superstar is hosting a show, giving his opinion, audience's opinion may sway away from a contestant.
Salman, as usual, did not say anything to Tanisha for calling Gauhar a "just a cook who adds spice to everything".
Salman again went after Gauhar for taking too much. We would love to know which member of the house talks less.
He went on to defend Sophia Hayat for walking out on Gauhar. Salman said that it's Sophia's choice and she can do what she feels.
When Gauhar tried put forward her point Salman cut her off.
So if walking out of a conversation is a personal choice than why can't Gauhar Khan talk as much as she wants, it's her personal choice.
Well, to be fair to Salman he did support Gauhar in a very subtle manner.
Salman Khan told Andy and Tanisha that their mockery of Gauhar's fainting was not fair because it was her medical condition. To this Tanisha laughed and VJ Andy was unfazed (that's how seriously they take Salman!).
In a quick speech, Salman said everyone in the house from Tanisha to Kamya has said wrongful things about other inmates.
The hunk of an actor, who looked quite chilled out in the beginning of the episode vented out his angst on Kushal Tandon, who tried to gain mileage by saying, "Salman Khan said sorry to me".
Salman did admit that he said sorry to Kushal only to let bygones be bygones and to move on. But according to Salman, Kushal tried to gain mileage by exaggerating what Salman said, without acknowledging the reason behind the apology.
Going by Salman's reaction fans might have to wait longer to see Kushal back on the show.
Meanwhile, model-turned-businesswoman Candy Brar, who entered the 'Bigg Boss-Saath 7' house recently, was evicted on Saturday.
Now Sangram Singh, Elli Avram, Kamya Punjabi, Pratyusha Banerjee, Gauhar Khan, Ajaz Khan and Sophia Hayat, remain in the show, which is aired on Colors.
Follow Emirates 24|7 on Google News.