Bigg Boss gang: Kushal, Gauhar, Tanisha, Armaan party in Goa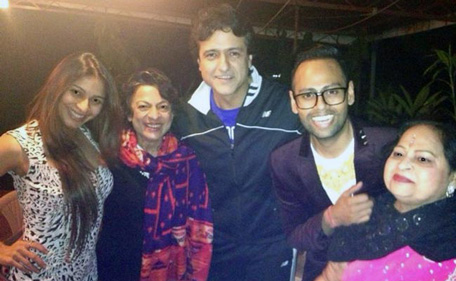 While love is pretty much alive when it comes to 'Bigg Boss 7' contestant Gauhar Khan and Kushal Tandon, the relationship between Tanisha Mukherjee and Armaan Kohli also looks promising.

There were speculations that Tanisha and Armaan have broken up post Bigg Boss 7.
Read here: Salman to quit Bigg Boss
Kushal and Gauhar in Gao. (@KushalT2803)

But pictures of the two together in Goa tell a different story.

Tanishaa and Armaan made cuddles and kisses a usual affair for the viewers. They had made separate plans for New Year's day but soon caught up with each other to spend some quality time.

Co-contestant VJ Andy was also spotted partying with Tanishaa and Armaan.
Armaan Kohli, Tanisha Mukherjee and VJ Andy in Goa.

First, Andy played Cupid for jilted lovers and reunited them at Lonavala farm house New Year's eve party.

Contrary to reports, Tanisha's mother Tanuja welcomed Armaan with open arms! Apparently Tanuja played a perfect host and prepared a sumptuous meal for her guests.

After Tanisha's house party in Lonavala the party shifted to Goa.

As for their relationship status Tanisha is playing to the gallery. Speaking to a journalist she told, "About the status of my relationship with Armaan, you are a mature intelligent journalist. Please draw your own conclusions."

The other couple who emerged from the reality show Gauhar Khana and Kushal Tandon are more open about their relationship.

The two were holidaying in Goa recently.

The couple welcomed the new year in the sunny beaches and posted pictures on Twitter of their holiday and thanked fans for supporting them.
Follow Emirates 24|7 on Google News.