Bigg Boss: Karishma or Dimpy, who has better chance to win?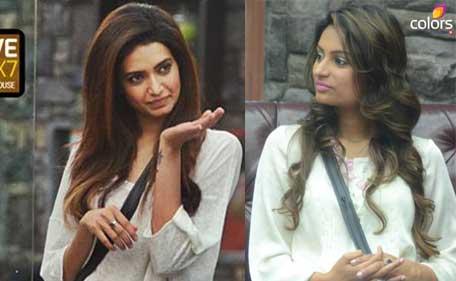 Karishma Tanna and Dimpy Ganguly have reached the 'Bigg Boss' season 8 finale that will take place this coming weekend.
These two ladies are definitely the front runners in the race for the title.
Dimpy Ganguly:
As soon as Dimpy Ganguly entered Bigg Boss 8 she managed to get into dirty politics of the house.
Dimpy entered the show as a wild card entry and has been accused of breaking the P3G group (Puneet Issar, Praneet, Pritam and Gautam) of the house.
She also had an ugly spat with Pritam after she supported Gautam during a task.
During a task Pritam accidently hurt Dimpy. She was emotional and started crying after this incident.
Dimpy then called names and that resulted into bigger conflict.
Well, it seems Dimpy has a habit of calling names and her targets have been Karishma Tanna, Sambhavna Seth, Ali to name the few.
She has been blamed of instigating fights among contestants and cornering them on issues.
Dimpy has also come out as the biggest cry baby of the show. She would pick up fight and when things go out of control and personal insults are hurled at she would resort to shedding tears.
Karishma Tanna:
As for Karishma Tanna she is not far behind in locking horns with the contestants. The first big fight in the house was due to Karishma and Gautam during the 'hijack task'.
She would not mince her words or flinch when called selfish.
Karishma has been nastty with people she didn't like (Puneet Isshar) and stood by what she believed was right.
The actress is considered as one of the strongest contenders for the coveted title.
Be it her general knowledge or the lack of it or her self-centered attitude, everything has become a topic of discussion both inside and outside the Bigg Boss house.
Her dislike and enmity towards Puneet Issar and Gautam Gulati is quite evident in the Bigg Boss house. The actress has never missed a single chance to settle her scores with both the contestants.
Her romance with Upen Patel despite having a boyfriend outside the house gave more fodder to the gossip columns.
Her popularity suffered a dent when she accepted Upen Patel's proposal and encouraged his advances.
Viewers didn't like the fact that Karishma ditched her boyfriend on national television and got swept away by Upen's flirtatious nature.
Karishma alone provided more controversy in the house then few contestants put together.
Considering the track records of Bigg Boss where maximum winners have been women (Juhi Parmar, Urvashi Dholakia, Gauahar Khan and Shweta Tiwari), it won't be surprising if Karishma Tanna or Dimpy Ganguly walk away as the new winner.
However, with Salman Khan having declared Gautam as the winner he seems like the current favourite amongst the public.
Now that these are the two strongest contenders (along with Gautam Gulati) we can't wait to find out who will pick the Rs 50 lakh cheque on January 31 on the Grand Finale.
Follow Emirates 24|7 on Google News.