Bigg Boss mess: Tanuja furious when asked about Tanisha and Armaan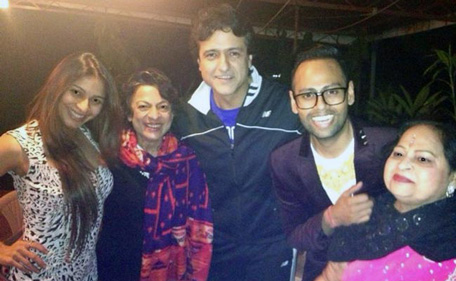 When Tanisha Mukherjee wanted to take part in Indian reality show 'Bigg Boss 7' it was reported that her family was unhappy with her decision.
Her mother and actress of yesteryears Tanuja and sister Kajol were not too pleased and even tried to talk her out of it.
Brother-in-law Ajay Devgn apparently requested the makers of the show to eliminate Tanisha as rumours of her getting too close to Armaan Kohli grew louder.
After 'Bigg Boss' finale Tanuja is relieved to have her daughter back safe and sound.
Wonder whom she was scared of since her daughter had the beefy Armaan to protect her.
She did accept that Tanisha's decision bothered her in the beginning, but it was "no big deal" and they "stick together" because they are family.
Tanisha and Armaan were a hot topic of discussion during the show due to their physical intimacy on camera.
The two made cuddles and kisses a usual affair for the viewers.
Tanuja gets furious at the mere mention of Tanisha's close proximity to fellow inmate Armaan Kohli in the Bigg Boss House.
When Times Of India asked about her daughter's relationship with Armaan Kohli - which we have been told she was initially not too happy about – the yesteryear actress got snappy.
"My family is sacrosanct and I guard them fiercely. People think it is their janam sidh adhikar (birth right) to ask us whatever they want to, but why should I answer? I have never bothered about the press in my life, not even during my heydays. I never clarified anything."
During the New Year celebration co-contestants VJ Andy played Cupid for jilted lovers and reunited them at Lonavala farm house for a party.
Contrary to reports, Tanisha's mother Tanuja welcomed Armaan with open arms! Apparently Tanuja played a perfect host and prepared a sumptuous meal for her guests.

After Tanisha's house bash in Lonavala the party shifted to Goa. The ex-Bigg Boss housemates were holidaying in Goa with friends.
Tanuja said she watched the show only when Tanisha took part and was appalled by contestant behaviour.
After watching the show she wanted to "slap everybody silly" but it's better not to judge anyone as that environment is completely different.
Follow Emirates 24|7 on Google News.