Bigg Boss Salman Khan: Elli Avram is 'Katrina Kaif in making'?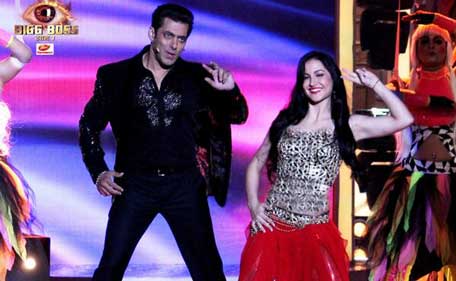 'Katrina Kaif in making' and like we all have guessed before, Elli Avram is all set to be the new Ms Kaif in Salman Khan's life.
Elli Avram - another foreign import in Bollywood has become a household name in India, thanks to the reality show 'Bigg Boss 7'.
Read here: Salman to quit Bigg Boss

Debuting in 'Mickey Virus', the 22-year-old half-Greek-half-Swedish beauty entered the show before the release of her movie.
Entering the show has proved to be more fruitful for her than her debut movie.
(Supplied)

Here's why - Elli Avram has built a good rapport with host and Bollywood heavyweight Salman Khan.
It was evident that Salman was very fond of Elli Avram during his interactions with her in 'Bigg Boss 7' house. During hosting the show, he even remarked that she resembled his ex-girlfriend Katrina Kaif!
The actor paid special attention to her and this mentoring has now gone beyond the show.
During the show finale the duo performed to the song "Mashallah", which was picturised on Salman and Katrina Kaif. Eyewitnesses say Salman was very attentive to Elli in the after-party.
Salman Khan's 'big hearted' nature is known to all. The actor is known to be lending a helping hand to everybody that he is fond of.
And Elli has grabbed this opportunity and is now taking her Salman connection to the next level. She has apparently got the same management team handling her work.
If reports are to be believed, Salman has helped Elli find a house next to his.
Now the beefy actor is helping her professionally.
(Supplied)
During a press meet when Salman was asked if he is going to launch Elli, the 'Dabangg' actor instantly replied, "Yes I am, she is a very talented girl and deserves to get a chance in Bollywood."
Elli was also present at Salman Khan's birthday bash and her presence set the tongues wagging in the party.
The newbie revealed that she gifted him a crystal angel with a lamp inside as a birthday gift.
Talking to an Indian daily Elli said, "I personally asked Salmanji if he could guide me as he is such a senior actor. He's very supportive. I am not sure, but I think Salman must have put in a word for me. If that's true, I am very grateful to him. Also, who wouldn't want to work with Salman?"
Reportedly Salman has taken her under his wing and even recommended her name to Kunal Kohli.
Looks like after Katrina Kaif, Zarine Khan, Sana Khan, its Elli Avram's turn to be mentored by Salman.
Follow Emirates 24|7 on Google News.