Bikers chase down Salman Khan raising security concerns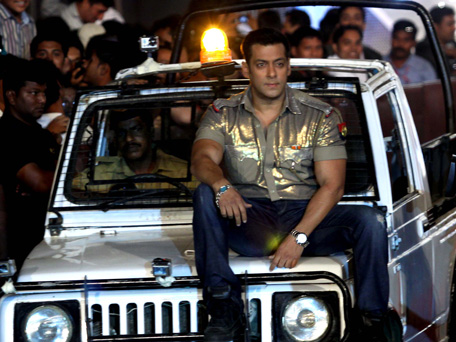 The fact that Bollywood actor Salman Khan has a massive, pan-India following is evident with the deluge of fans pouring out every time he visits a state or a city.
By now the actor should be habituated with this 'Salman-craze' factor among fans. He has been mobbed, dragged, pushed and pulled many times during promotional events in malls and outdoor locations.
But nothing prepared Salman Khan for what happened in Hyderabad over the weekend. Fans chased him down and banged the roof of his car and took this superstar completely by surprise.
This left the beefy actor quite miffed with the Celebrity Cricket League organisers in Hyderabad.
Salman was there to attend a match played by the Mumbai Heroes and he was hoping for better arrangements of security in and outside the stadium.
Sources in CCL confirmed the news to Emirates 24|7, "The incident took place when Salman was exiting the stadium and a group of 90 bikers were waiting for him outside."
"As Salman left the ground, the bikers started trailing him and even banged on the sides of his car to attract Salman's attention. In that situation even the organisers could not have done much."
Luckily Salman was not alone but was accompanied by his personal bodyguard in the car.
Friends of the star say that the actor was enraged at the tournament organisers and the police department for being so callous towards his safety. He was not only concerned about his safety but also of the others on the road. There could have been a major mishap.
Though Salman is upset with the CCL organisers, his plans to travel to other parts of India and Dubai during matches has not changed.
As per schedule he will be in Dubai on February 23 to attend the matches played between Mumbai Heroes & Chennai Rhinos while Kerala Strikers play Bengal Tigers.
This incident in Hyderabad is not the first time when Salman Khan got mobbed. In 2010 when he was in the city to promote 'Dabangg' with Sonakshi the fans went out of control.
Sonakshi, simply got swept in the wake. There was a near stampede as Salman's fans went berserk; in fact, he had to finally flex his muscles and push his fans away in order to protect Sonakshi.
His bodyguards even got in a brawl with the public, but fortunately no one was hurt.
Even during the promotional tour of Veer in Hyderabad at Prasadz Multiplex, the crowd jammed the elevator door; five people were injured in the resulting stampede.
Follow Emirates 24|7 on Google News.