Blac Chyna 'super fed up' with Rob Kardashian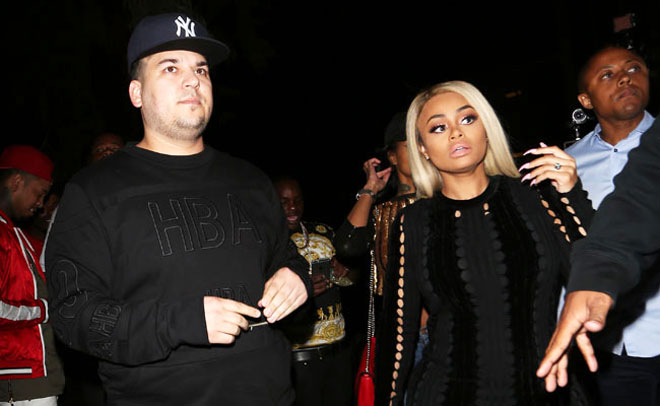 Blac Chyna reportedly became "super fed up" with Rob Kardashian before their split as their relationship was "incredibly unhealthy"
The 28-year-old model ended her engagement with the 'Keeping Up with the Kardashian' star - with whom she shares three-month-old daughter Dream - after the pair failed to get their relationship back on track following a brief split in December.
It has now been reported that Chyna - who also shares four-year-old son King Cairo with ex-boyfriend Tyga - believed the 29-year-old sock entrepreneur had "terrible issues" that were "incredibly unhealthy" for their family.
An insider told People magazine: "They split a while ago. The wedding plans are off. They are both trying to be mature about it. It was less dramatic this time.
"Chyna is super fed up with Rob and thinks he is way too emotional and depressed. She thinks he has terrible issues. He is always battling his own insecurities and is unstable. It's a major turn-off to her, and she thinks it's incredibly unhealthy for the baby and their family.
"They're living separately and she's keeping Rob at arm's length, both from the baby and from her."
Meanwhile, it was previously reported that Rob called time on their relationship after the pair - who starred in their own reality show 'Rob & Chyna' - went "days at a time" without talking.
A source said: "Rob thinks it's the right decision. Chyna has disappeared for days at a time without communicating or providing any updates. This won't end well."
Another insider said the couple, who have been living apart since their initial split before Christmas, have been struggling to get along over the past few months, adding: "[It's the same] with her yelling and screaming about how his family doesn't like or support her, and his insecurities."
Rob's mother Kris Jenner recently hinted the duo's romance was often tumultuous.
Speaking about the pair - who got engaged after four months of dating - she explained: "You know, I think that, too, is a work in progress and they have good and bad days. It's a young relationship and they haven't known each other for that long."
Follow Emirates 24|7 on Google News.