Blame it on fashion: Vidya Balan's pregnancy news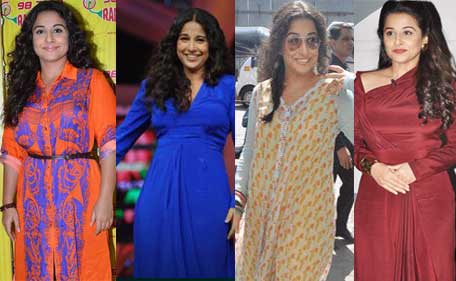 Vidya Balan quashed all the rumours about her pregnancy by coming out in the open and saying "No, I am not pregnant".
The actress brushed aside the idea, "It will take a while now. If I say something, you will tell me get ready and be alert etc. But now, there is no news like that coming up in the near future and I don't think I want Siddharth (husband) to think like that as well."
Vidya's visit to doctors have been raising a few eyebrows, but the actress clearly denies that she has only been visiting the doctor and that no stork will be visiting her anytime soon.
But is it only her visits to the doctors or is it her ill-fitted maxi dresses that have got the press talking?

Vidya Balan was seen sporting dresses during the recent promotions of her movie 'Shaadi Ke Side Effects'.
While many pondered if it was to hide pregnancy news, fashion critics gave the thumbs down to most of these dresses that were not too flattering.
Vidya, who was once ridiculed for her dressing sense, had switched to the traditional wears and she wore them with aplomb.
Making the saree her signature style, Vidya also sported them for her Cannes appearances last year.
During the dance reality show 'Nach Baliye 6' finale Vidya wore a cobalt blue Anand Kabra maxi dress and had let her hair loose in curls.
The plunging neckline of the dress was not a great sight and those awkward front pleats were not flattering for Vidya's body.
Trying to experiment more with her looks, Vidya opted for a kurta by Anupamaa, which she wore as a dress! She had worn her hair in a messy braid. The flare in the dress only added more spice to her pregnancy rumours.
On another occasion, the actress was seen in a Anupamaa item. The lady had converted a shirt-like maxi dress into an anarkali (Indian dress) tied it with a belt and the outcome was disastrous!
Recently, at 'Comedy Nights with Kapil' Vidya was styled in a wine coloured dress with an asymmetrical neckline, by Anand Kabra.
The dress was styled like a wrap-dress. She accessorised the outfit with gold disc earrings, a thick gold cuff and grey pumps.
Completing her look was her hairstyle which was curled into ringlets at the bottom - what is with that style!

Overall, Vidya is all for dresses these days, especially maxi dresses and we won't be surprised it's for these dresses that the paparazzi got thinking on the pregnancy lines.
So, do you think it is time for Vidya to switch back to her traditional outfits?
Follow Emirates 24|7 on Google News.