Blood and anger: On location with 'Mental' Salman Khan in Dubai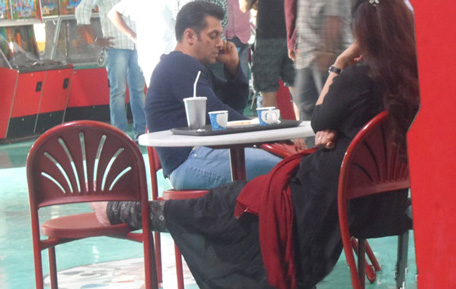 DAY: Five

COUNTRY: UAE (Dubai)

LOCATION: Wonderland Theme and Water Park

MOVIE: 'Mental' (Working title)

For the past five days there has been constant news of Bollywood star Salman Khan shooting for 'Mental' in Dubai.

So Emirates 24|7 decided to hunt him down.
Click to see gallery: Salman Khan during the shoot of 'Mental'
As we walked past the main entrance of the Dubai Wonderland, the theme and water park seemed unusually quiet. A giant carousel stood in the middle of the park but deserted. A hustle from within the Family entertainment centre caught our attention.

Walking through the door, we saw the hero nursing his wounds. Yes, we finally spotted Salman Khan on location during the shoot of 'Mental' in Wonderland.
Indian film actor Salman Khan during the shoot of Mental in Dubai Wonderland.

After an early morning call time and all day shoot, it was no fun for Salman, even though he was in an amusement park.

The crew was surrounded with gaming machines, rides, pool boards, cars and flying jets.

The setting was perfect for a fun-filled afternoon but that was not part of the script.

Dressed in denim and casual t-shirt, Salman's face was bruised and painted with blood. One of the crew members informed us they were in the middle of a fight sequence.

The hero is embroiled in a fight with his detractors. And since Salman is no 'Dabangg' in this movie a little cut to bare his human side.
Indian film actor Salman Khan and Tabu (with her back) on the set of their upcoming movie 'Mental'. (Reader's pic)

In-between takes, Salman took a breather accompanied by Tabu, while Daisy Shah lingered around.

Both the ladies seemed distressed as the hero took a punch or two.

According to reports, Tabu has been roped in to play Salman's elder sister in this remake of a Telugu film 'Stalin'.

Indian film actor Salman Khan and Tabu (with her back) on the set of their upcoming movie 'Mental'. (Reader's pic)

When it was time for others to give their take, Salman nibbled from a platter and had fun watching others go through the grind.

As younger brother Sohail explained the fine points of the scene and provided his inputs, the camaraderie and comfort level between the siblings was visible to all and sundry present there. Amidst all the work, the Khan brothers had their close moments.
Sohail Khan on the set of 'Mental' in Dubai Wonderland theme and water park.

Once Salman's shoot was over, he took off his make-up and voila, no bruises and no blood.
Producer/Director Sohail Khan. (Kamran)

Talking to Emirates 24|7, the producer and director of the movie, Sohail Khan said, "We are doing a fight scene here in Wonderland, as we had a requirement for an amusement park. It's a beautiful place, quite and very comfortable shooting here. It's almost like shooting in a studio atmosphere".


Producer/Director Sohail Khan. (Kamran)

It is accepted that crowd management can become a hassle when a film crew is working with a superstar like Salman Khan, but Wonderland ensured that the shooting went on uninterrupted.
Pictur courtesy: Twitter

The entire crew of 120 members has been flown from India for 12 days worth of shoot in Dubai.

Emirates 24|7 first brought you details of Mental's shoot, which took place at the Saif Belhasa Driving Institute. Along with Salman Khan, the sequence in the driving institute had Ashmit Patel and Yash Tonk.

The shoot continued in Wonderland even as the writer bowed out.
MUST READ:
Nach Baliye 5: Shilpa Shetty, Farah Khan on the dance floor
Pregnant Kate feels baby move, expecting baby girl
Mummy fitness fight: Shilpa Shetty beats Aishwarya Rai
Follow Emirates 24|7 on Google News.