Bollywood review: Akshay Kumar's 'Baby' is menacing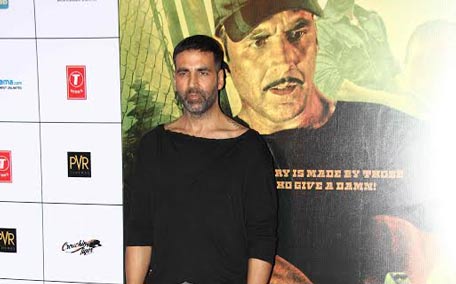 We've seen innumerable takes on terrorism on Bollywood screens, many that paraded beefy crowd favourites Salman Khan, John Abraham and (even) Saif Ali Khan as swanky intelligence agents, but none can match up to Akshay Kumar's gritty adventure in the unusually titled 'Baby'.

Director Neeraj Pandey goes for the kill, without diluting the menace with Bollywood kitsch. After tackling the war on terror so credibly in 'A Wednesday', he returns with an espionage thriller that's focused on the job.

His agent thankfully doesn't slip into a song and dance, when not playing with his guns, and that's an improvement. However, his wife does hum a tune, one that disturbs the narrative substantially.

Had Shree Narayan Singh been more liberal on the editing desk, and tightened the screenplay by cutting out the song and unnecessary montage shots of the lavish set, it would have worked in keeping the pace of the film undamaged. At 2-and-a-half-hours of screen time, it was a stretch.

Neeraj even misjudges a few scenes, especially the climax, which crumbles under a hurried but highly unconvincing twist.

That aside, Neeraj packs in unsettling moments with cinematic whoosh. Sudeep Chatterjee's striking frames travel through Delhi, Katmandu, Istanbul and Abu Dhabi, complimenting the blood-spurting action set by Cyril Raffaelli and Abbas Ali Moghul.

Even his characters aren't guided by Bollywood clichés, and his lone woman agent is allowed to flaunt her action moves, and (thankfully) not her booty. The men too are left to do their job, and not distracted by item numbers or needy lovers.

'Baby' opens to the rustic voice of squad chief Feroze Ali as he narrates the story of his team's biggest mission. His main man Ajay Singh is out to stop the notorious Bilal Khan from triggering off multiple blasts in his country. He, and his men – the hulky Jai, the geeky Shukla, and the pretty Priya, – team up to put an end to the terror.

Akshay Kumar lends credibility and charm to agent Ajay. He impresses greatly even when he rests his muscles, and lets his expressions and words do the work. After 'Special 26', he thrills and surprises yet again. It's his jumping skills and trademark swagger that pop up occasionally.

Anupam Kher is faultless as the brain behind the mission, and Rana Dagupati offers the muscle.

Danny Denzongpa gets a fair chance at a character that doesn't require him to grit his teeth and roll his eyes, and he excels. He lends dignity and suave to Feroze Ali.

Despite being left to glare and grunt, Kay Kay Menon plays Bilal Khan with threatening ease. He's backed by Pakistani actor Rasheed Naz, who plays the India-hating Mullah Maulana Mohammad.

Barring the few jarring loopholes, 'Baby' will still thrill and impress, and find a commanding position in the espionage-thriller genre.
Follow Emirates 24|7 on Google News.