Bollywood review: Arbaaz leans on Salman Khan in 'Dolly ki Doli'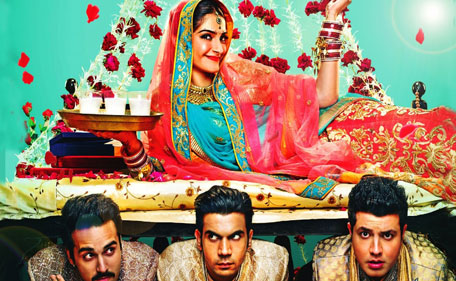 Given that Salman Khan features in more movies than he actually signs for, with many actors and filmmakers unapologetically banking on his name, mannerisms and fame just to set the box-office register ringing, it wouldn't be wrong to coin a genre in his name.
After the year kicked off with 'Tevar', where a beefy Arjun Kapoor gushes over his mentor Khan and croons he's his biggest fan, here's another movie, this time from his home ground, that blatantly glorifies the mighty Khan.
In the opening credits of 'Dolly ki Doli', his younger brother and producer of the film Arbaaz Khan writes him an emotional 'thank you for inspiring me' note. Considering Salman was pivotal in resurrecting his dull career by starring in his directorial debut 'Dabangg 2', we understand his uneasiness in unveiling his first home production without his brother in the lead.
But, he makes up for that by introducing a Salman Khan duplicate. Actor Pulkit Samrat slips into a police uniform and flashes the 'Dabangg' star's trademark moustache and aviators. Even his name Robin hints at the inglorious Robinhood Pandey.
That's not all, Arbaaz even gets his leading lady Sonam Kapoor to mock at his older sibling's much talked about bachelorhood.
It works, in parts, but does stick out like a sore thumb. Dolly's coloured past and her thirst for marrying, drugging and looting rich grooms makes for an interesting story that it doesn't warrant Salman Khan fan moments.
With Khan out of the picture, 'Dolly Ki Doli' pretty much rides on good humour, striking performances, incredibly funny dialogues and an impressive tight edit at 100 minutes.
Unfortunately, we are privy to much of the madness even before it unfolds on screen. Talk about trailer spoilers!
Within minutes after the curtains go up, we watch an endearing chap, who claims to have made millions on his sugarcane business, march to his lover's house to seek her hand in marriage. While he's still busy impressing his 'future in-laws', we already know he's going to get conned.
And, that's where 'Dolly ki Doli' crumbles.
Had the filmmakers exercised discretion while making the trailer, this would've been a far more charming film. Alas, that's not meant to be.
Dolly's inglorious escapades turn predictable, and begins to slip in the second-half.
Writer Umashankar Singh and director (and co-writer) Abhishek Dogra are so bowled over (or 'clean bowled' as Saif Ali Khan announces) by their monster bride, that they are unable to look at logic or pace, or even flesh out a befitting end.
Instead they pitch her as a 'honourable' woman, who despite indulging in dishonourable acts never kisses the men she marries and robs. An unnecessary flashback about her broken heart justifies her bad deeds.
Isn't it a strange coincidence that Parineeti Chopra trekked on similar grounds in 'Shuddh Desi Romance'? Clearly, the writer duo weren't the first to crack on this wedding con-artist theory.
Among the major loopholes, it's tough to believe that the 'bride' doesn't get photographed at a time when majority of the population are obsessively trigger-happy.
How Dolly finds her family of con artists, or what they do with the loot isn't explored.
Sonam Kapoor grins, giggles and prances around. She's pretty, and makes even the most dull outfits look stunning, but barring that cover-girl talent, there's nothing more to her. Even, her man Pulkit Singh is unable to hold his own, and his Salman Khan imitation is unimaginatively wooden.
It's Rajkummar Rao and Varun Sharma who steal the show. Although Varun's Delhi boy Manoj is just as innocent, likeable and lecherous as his 'Fukrey' Choocha, he plays it delight. After 'Queen', Rajkummar plays yet another jilted lover, but here his Sonu is spineless, needy and forgiving.
'Dolly ki Doli' also flaunts an impressive supporting cast. Leading the group is Mohammed Zeeshan Ayyub, who steps in as Dolly's bogus brother who dreams of rising up the ranks as her lover, and Archana Puran Singh as the boisterous mother of a gutless Delhi boy. Brijendra Kala packs the laughs as the stammering cop, while Rajesh Sharma's sleazy but inoffensive rich daddy is equally entertaining.
Had the filmmakers worked a little harder, 'Dolly ki Doli' would've turned into something spectacular. It's good, but not great.
Follow Emirates 24|7 on Google News.