Bollywood review: Bow down to the 'Queen' Kangana Ranaut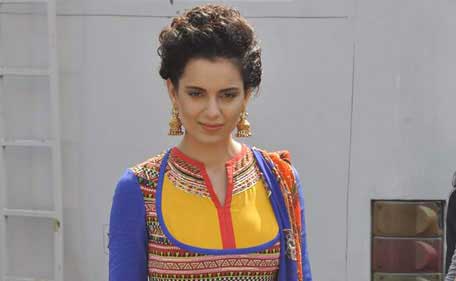 It's fascinating how most Indian love stories fall apart at coffee shops. It's probably the safest public spots where hearts can be broken without much confrontation and tears, at a distressing pace where conversations are snipped swiftly to avoid public damage.
It also leaves a ray of hope for the unloved, who rush away thinking that all will be forgotten and forgiven in the days to come.
Those are some of the emotions that are painfully captured through Rani's teary-eyes before she leaves the café after her fiancé Vijay coldly dumps her just two days before their big, fat Indian wedding.
She is shown fidgeting with her mehendi-inked fingers, as she struggles to grasp the magnitude of his words and the impact it would have on her sheltered life.
Days later, you spot the fading mehendi designs as she embarks on a pre-planned honeymoon to Paris and Amsterdam minus a husband.
It's the attention to detail and realism that textures 'Queen' and weaves it into something of exemplary substance.
One-movie-old director Vikas Bahl journeys down the often trekked Bollywood path of self-discovery and coming-of-age and spins it into something delightfully endearing and passionate.
And, he's ably assisted by the phenomenal Kangana Ranaut, who makes Rani's tragedy her own. Not only that, she even unveils her writing talent, by penning the dialogues alongside writer and lyricist Anvita Dutt.
The screenplay by Vikas and writers Chaitally Parmar and Parveez Shaikh is devoid of any snags, and loaded with fun moments that keep us hooked and undistracted through the one-hour-and-forty-minutes narrative. The truth behind the Indian staple French toast is most hilarious.
Set in the bustling Rajori, 'Queen' centres around Rani's little wants and desires. She earns for a 'happily ever after' love story as she willingly allows the men in her life to chalk out her dreams.
But, when Vijay plays spoilsport she's forced to question the principles that were ingrained in her.
She sets out to explore her favourite foreign cities, and returns gaining four "international" friends.
When she abandons her needy fiancé at a café to rush out for a rock concert with her three male buddies, you recognize the bond they've built despite the language barriers and the circumstances.
Vikas skips the conventional route, and churns out an end that's minus any clichés.
Kangana's pitch-perfect as the naïve Rani, who outgrows her insecurities and abandons her fears through her solo honeymoon.
From being the girl who is shocked at casual lip-locks to finally planting a hurried kiss on a pushy Italian hunk, Rani learns to surrender to life's unplanned journeys unquestioningly.
You witness her incredible evolution from a simpleton, who struggles to drown out the sounds of a trippy rendezvous next door in a Parisian hotel, to a confident chirpy girl, who coaxes an uninterested taxi driver to dance to Asha Bhosle's intoxicating 'Hungama Ho Gaya'.
She goes through her ups and downs, as she learns to travel without her protective, chubster of a brother, or her watchful family. You sense that vulnerability when the Eiffel Tower turns into a symbol of unrequited love one time, and of romance at another.
Lisa Hayden plays the half-French, half-Indian exotic beauty to perfection, without ever compromising her accent or her outlook.
Rajkumar Rao tackles Vijay's egoistic trip with aplomb, making it easy for us to choose whose side we are on.
That's not all. Vikas packs in many affable characters. There's Rani's spirited grandma, who has a knack to spot "adult" content; her indulgent mom, who insists on video chatting with her girl every single day and her adorable dad, who sneakily yearns to chat with his daughter's new Parisian friend.
Even her three pals – the Japanese tiny-package Taka, the charming Russian artist Olejander, and the musically inclined French Tim, are neatly sketched despite being only supporting characters.
With so much going for it, there's no reason why you shouldn't bow down to the 'Queen'.
And, we've arrived at the theory that any movie that features heart-shaped balloons (remember 'Dil Chahta Hai') is simply worth it.
Follow Emirates 24|7 on Google News.