Bollywood review: Hrithik goes 'Bang Bang' with arm-candy Katrina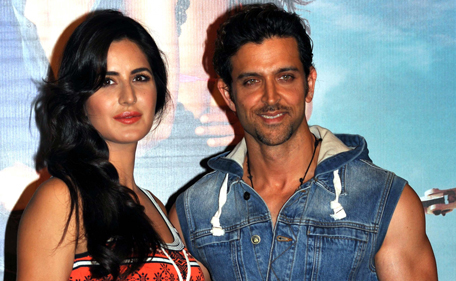 Remaking a good film requires guts and incredible foresight, but resurrecting a Hollywood box-office dud by texturing it in Bollywood frills and fancies requires courage of a different kind.
It, among other things, requires immense skill and creativity, and great writers to spin something ordinary into spectacularly marvelous.
Now, that's something even geniuses might fail at, so Siddarth Anand, with his resume of not-so great films ('Ta Ra Rum Pum', 'Anjaana Anjaani', and 'Salaam Namaste') is not to blame for turning Tom Cruise's uninspiring 'Knight and Day' into a forgettable mess.
Given the Hollywood original isn't the most inspiring story to be re-told, writers Sujoy Ghosh, Suresh Nair and Abbas Tyrewala would've struggled to flesh out a story fit to rule the Indian box-office.
What Anand does manage, however, is to glam up his pitch with a stunning lead pair, who flash their toned body and chiseled muscles, and flaunt their designer wardrobe without a care in the world.
He also peppers the 160-minute screen time with Vishal-Shekar's peppy music track, turning his film into one big dance party. Apart from all else, it allows his star cast to twist and turn like magic, and show off their versatile moves with panache.
Had 'Bang Bang!' been less about 'Knight and Day' and more about 'Step Up', this would've been a fun movie.
But, Anand clearly got distracted with Hrithik Roshan's magnificent eight-packs, and was unsure if song and dance would be enough to glorify his hero.
So, he hands him guns of different size and shapes, F1 racing cars, speedy bikes, bombs and bullets, and puts him in numerous sticky situations that demand him to flex his muscles, grin and generally make the bad men look hopelessly helpless, often silly, and often hidden from the cameras.
Although Hrithik is stuck in pretty much the same mess that Tom Cruise was in, the alterations appear in a few scenes from the original being chopped off, especially the hugely ridiculed mid-air plane massacre. Anand even gives his leading lady an identity different from that of Cameron Diaz.
And, while Tom Cruise was instructed to protect a brilliant invention without ever wearing his dancing shoes, Hrithik is handed the coveted diamond with a 'K' – Kohinoor and armed with a loveless Katrina Kaif, whom he has to protect, romance and boogie with.
And, when he isn't playing the desi James Bond or Bollywood romeo, Hrithik turns adman, mouthing taglines of brands that obviously paid a bomb for its part in the movie. Mountain Dew ('Dar Kay Aage Jeet Hai') and Pizza Hut are the most prominent that appear and disappear at random, puncturing the already shaky plot considerably.
'Bang Bang!' is about how a bank receptionist finds herself strapped into a rollercoaster ride without ever wanting to get on one.
Harleem's "boring" life with her grandmother suddenly shifts gears and gets accelerated into a full-octane action movie after she bumps into the dazzling Rajveer on a blind date fixed through 'trueluvv.com' dating site.
"Who are you?" prods the confused Harleem when she discovers her new crush spends much of his wakeful time pumping bullets into all and sundry.
She pauses, and repeats it, more powerfully. Rajveer merely stares, and we imagine him saying, "Yes, I'm Krrish".
No, seriously, the resemblance, barring the shiny black cape and mask is uncanny.
While his grueling gym workout will definitely draw the women (in hordes) to the theatres, Hrithik's Rajveer doesn't match up to his own in 'Zindagi Milegi Do Bara', 'Jodha Akbar' and 'Lakshya'. Although it's unfair to draw comparisons to genres other than 'Dhoom2', it's just tough to reduce Hrithik to a gorgeous eight-pack!
Katrina slips into yet-another Canadian-bred character, and sleepwalks through much. She appears rather indifferent to playing a woman in search of "trueluvv", and unsure of whether she's in "safe" hands.
A supporting cast of Danny Dengonzpa, Deepti Naval, Jimmy Shergil and Jaaved Jaafri are left with little to do, and that's a shame really.
Among the lot shines the lady playing Harleem's grandmother. Watching her coax her girl to chase the "jewel thief" because he's as daring as Dev Anand and Dilip Kumar of her times is one of those rare, charming moments. Unfortunately, those gems are far too few to find.
'Bang Bang!' is less about logic, and more about fluff. And, that's not a bad thing, if it had been done well. But, 'Bang Bang!' ends up being an unimaginative ogle-fest. Clearly, technology has handed us more options than just Bollywood to go for.
Follow Emirates 24|7 on Google News.